Garudan Review: Is Suresh Gopi, Biju Menon's thriller film worth watching? Read this
Malayalam veteran actor Suresh Gopi's thriller movie 'Garudan' hit theatres today. The movie is directed by Arun Varma. The movie also features Biju Menon and Jagadish in the lead role. The first reviews of the movie are out now.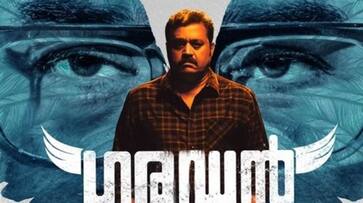 Malayalam veteran actor Suresh Gopi's first film of the year hit theatres today. The movie is directed by debutant Arun Varma. The movie also features Biju Menon in the lead role. 
The first screening of the movie will start at 9 a.m. in Kerala today. The film is written by Mithun Manuel Thomas, who directed crime movies including Anjaam Pathira. 
The preview of the movie was held at Kochi PVR Lulu at 7 p.m. on November 2. Opinions are also raised that the film tells the story without twists and gives a better cinematic experience. It is hinted that the conflict between the central characters drives the story forward. Anjaam Pathira was a film that proved that Mithun Manuel Thomas is a man who knows the pulse of the thriller genre. It was a hugely popular and financially successful film. 
Also read: Garudan Trailer OUT: Suresh Gopi's thriller movie to release in November
The second half of the film is an efficient, well-crafted mystery thriller with positive aspects such as the cinematogramovie previewphy, background music, and screenplay. The scenes featuring SG V Bijumenon are particularly impressive and intense. However, the beginning of the second half is a bit slow-paced as it builds towards the climax, which ultimately shifts into top gear.
One user tweeted, "Beautiful screenplay and top-class execution. The first half belongs to Biju Menon, and the latter to #SureshGopi. I liked the movie as one of the best thrillers in recent times. This movie succeeded in avoiding the recent thriller pattern. 4/5 ..Winner"
The movie stars Biju Menon and Jagadish in the lead roles. The film belongs to the legal thriller category. Suresh Gopi and Biju Menon were last seen together in the Christain Brothers movie. The movie is directed by Mithun Manuel. 
The trailer of the movie was released on October 17.
The cast also includes Thalaivasal Vijay, Jagadish, Dileesh Pothan, Major Ravi, Nishant Sagar, Ranjini, and Malavika. Meanwhile, Abhirami and Divya Pillai will play the two female leads in the film. The movie is produced by Listin Stephen under the banner of Magic Frames. The cinematography is handled by Ajay David Kachappilly, and Jake Bejoy is composing the music.
The other crew includes editing by Sreejith Sarang, art direction by Anis Natodi, chief associate director Dinil Babu, marketing by Binu Forth, production in charge Akhil Yashodharan, line producer Santosh Krishnan, production manager Shivan Poojapura, production executive Satish Kavilkota, production controller Dixon Podutas, and PRO Vazhur Jose.
Last Updated Nov 3, 2023, 9:36 AM IST