Family Star: Vijay Deverakonda, Mrunal Thakur starrer to release on this date
Vijay Deverakonda and Mrunal Thakur star in "Family Star" directed by Parasuram. The teaser showcases Vijay's strong, family-oriented character and marks their reunion after "Geetha Govindam." The film features music by Gopi Sunder and is set to release during Sankranti, alongside Mahesh Babu's "Guntur Kaaram.''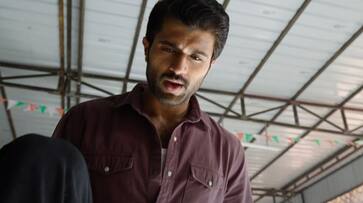 Vijay Deverakonda, the dashing actor who was last seen in the film "Kushi," is all set to grace the big screen again in director Parasuram Petla's upcoming project titled "Family Star." The film will also feature Mrunal Thakur in a prominent role. This collaboration is creating quite a buzz, especially given their successful partnership in the past with the hit film "Geetha Govindam."
The teaser for "Family Star" offers a sneak peek into what viewers can expect. It begins with a scene in which Vijay Deverakonda is sitting in front of a menacing gangster surrounded by his henchmen. The gangster proceeds to taunt Vijay Deverakonda, questioning his masculinity due to his penchant for shopping for vegetables and taking care of children.
In response, Vijay Deverakonda stands up and approaches a stack of steel bars nearby. He confronts the gangster, asking, "Why can't a man buy onions or take care of children? Is that not masculine enough, or do I need to bend this steel bar to prove my masculinity?" With these words, he proceeds to bend the steel bar, displaying his strength and determination.
As the teaser unfolds, Vijay Deverakonda exudes a cool and commanding presence, and a henchman attempts to attack him. Vijay swiftly thwarts the attack, smashing the henchman's head into a nearby concrete wall. The film's title is revealed, and Mrunal Thakur briefly appears, hinting at her role as Vijay's wife in the movie. The teaser concludes with a transition from intense background music to a light-hearted and melodious tune as Mrunal takes the spotlight.
The title teaser clearly presents Vijay Deverakonda as a strong and cool family man, setting the stage for an engaging storyline. The impactful music accompanying the teaser is composed by Gopi Sunder, who reunites with Vijay Deverakonda and Parasuram after their successful collaboration on "Geetha Govindam."
ALSO READ: Prabhas birthday celebration: Andhra Pradesh fans conduct bike rally (Watch video)
"Family Star" is being produced by Raju-Shirish and boasts a highly talented technical team. The cinematography is in the capable hands of KU Mohanan, with Marthand K Venkatesh taking on the editing responsibilities. The film is expected to hit theaters during the Sankranti festival next year, coinciding with the release of Mahesh Babu's "Guntur Kaaram."
Last Updated Oct 19, 2023, 4:45 PM IST