ODI World Cup 2023: 'Superstar of the millennium' Amitabh Bachchan gets 'Golden Ticket'
In a momentous gesture that connects sports and entertainment, the legendary Bollywood icon Amitabh Bachchan has been honoured with the prestigious BCCI Golden Ticket.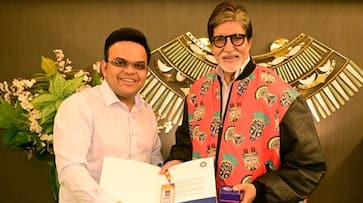 The Secretary of the Board of Control for Cricket in India (BCCI), Mr. Jay Shah, had the distinct honour of presenting the highly esteemed Bollywood icon, Mr. Amitabh Bachchan, with a prestigious 'Golden Ticket.' Mr. Amitabh Bachchan, celebrated for his unwavering dedication to Indian cricket, has been honoured with an extraordinary privilege—the opportunity to savour all the matches of the upcoming ICC ODI World Cup 2023 from the exclusive VIP stands. This exclusive access is not only an acknowledgement of his passion for Indian cricket but also a fitting tribute to his unparalleled contribution to the world of entertainment.
This Golden Ticket offers more than just access to the thrilling matches; it provides a gateway to a world of opulence and luxury. Mr. Bachchan will have the privilege of experiencing the tournament with a range of luxurious amenities and services that are befitting of his esteemed status.
As fans eagerly anticipate the ICC ODI World Cup 2023, Mr. Amitabh Bachchan's presence in the VIP stands, courtesy of the 'Golden Ticket,' promises to infuse an extra layer of excitement and glamour into this global sporting extravaganza. His passion for cricket continues to inspire and unite fans across the nation, and this remarkable honour serves as a testament to his enduring love for the game and his iconic status in both the worlds of cinema and cricket.
Also Read: ODI World Cup 2023: Team India's 15-member squad for mega event announced; check complete list
Last Updated Sep 5, 2023, 6:29 PM IST