Bulbbul movie review: 8 reasons why you should watch Anushka Sharma's folklore on 'chudail'
Produced by Anushka Sharma and her brother Karnesh Sharma, directed by Anvita Dutt, the movie is a feminist's take on Bengali folk stories with an excellent mix of horror, period drama, and social criticism.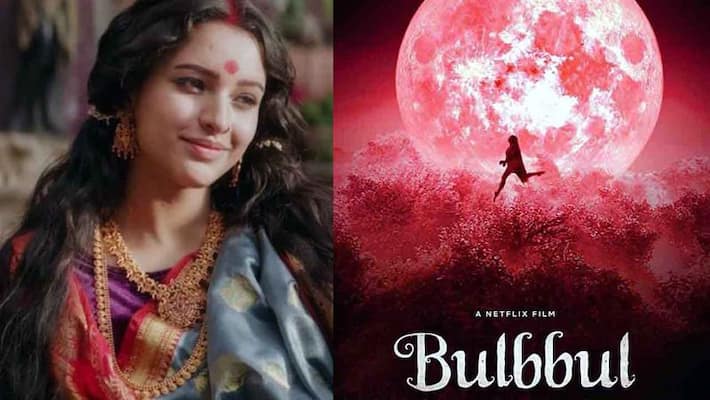 Cast: Tripti Dimri, Avinash Tiwary, Rahul Bose, Parambrata Chattopadhyay, Paoli Dam
Director: Anvita Dutt
Movie rating: Three stars
After giving us excellent films like NH10, Phillauri, Pari and recent Paatal Lok, Anushka Sharma and her brother Karnesh Sharma today (June 24) released the supernatural flick Bulbbul on Netflix.
The movie, which released today, received positive responses and reviews, especially for the lead actors' outstanding performance.
Bulbbul takes age-old legends and manages to bust a few myths and superstitions and also mirrors a patriarchal world with its storyline.
While watching the movie, you feel that Bulbbul is influenced by Rabindranath Tagore's classic Chokher Bali from names like names Binodini, Mahendra to characters like that of a widowed child who has an affair with her brother-in-law. The movie has drama, romance, horror, and revenge. So, here are eight reasons why you should watch Bulbbul:
Rahul Bose: He plays the role of Indranil Thakur and Mahendra Thakur two identical brothers; however, one is mentally challenged. Bose is seen onscreen after a very long gap, and does proper justice to both the roles, from a ruthless old husband to a mentally unstable man filled with lust. Netizens admired his performance and also loved to hate his character. Rahul Bose's body-language speaks volumes of the double standards his roles hold.
Tripti Dimri, Avinash Tiwary: This movie is a reunion of Laila Majnu actors. Both the actors donned their characters pretty well. Especially Tripti's mysterious smile, hiding the pain which she harnesses to significant effect, Dimri (Bulbbul) was also superb in portraying her part. On the other hand, Avinash Tiwary impressed many. Even though his looks were not that of a Bengali zamindar Avinash shines among the big stars. He plays the role of Satya, Bulbbul's first love and her brother-in-law.


Parambrata Chattopadhyay and Paoli Dam: Both are big stars in Tollywood; Parambrata has previously acted with Anushka Sharma in Pari. Here he plays the role of Dr Sudip and Paoli Dam plays Binodini. Parambrata and Paoli's understanding of traditional Bengali culture worked in the movie's favour. Paoli Dam and Tripti Dimri play sisters-in-law. The relationship between Bulbbul and Binodini is a reminder of the typical Bengali soap opera, full of jealousy, pettiness and manipulation.


Director: Beside direction Anvita Dutt also serves as the writer of the film. She took an age-old myth and managed to not just bust other superstitions along with it but also to mirror a patriarchal world. Bulbbul is Dutt's debut film as a director. Along with direction she also donned the cap of lyricist and dialogue writer for the movie.  
VFX visuals and cinematography:  Sidharth Diwan's cinematography was in sync with the storyline and the music. The pink and red shades create the horror element. Few visual scenes actually make the movie scarier. The camera work to display the huge old haveli and the era of Bengal Presidency in 1881 was quite impressive. 
Story: Bulbbul is a combination of two elements; feminism and the paranormal. The movie will transport you to the Bengal Presidency in 1881, when it was normal for children to be married to much older men from aristocratic families. Within the wealth and respectability lies dark secrets buried in big houses of zamindars. In 1 hour and 49 minutes Bulbbul tells you a tragic story of a girl who was forced into child marriage, who fell for her brother-in-law of her age. The film's screenplay is gripping and superbly narrated.
Background score: Amit Trivedi's music was haunting and low-spirited in accordance with the storyline. The music also changes as per the mood of the character which is not usually seen in such films. 
Costume/makeup/art design: Production design by Meenal Agarwal was outstanding, showing minute details of Bengal in 1881, and how the rich and famous lived in the era. From Paoli Dam's  shaved head and donning the widow's look to Tripti Dimri's 'badi bahu' look in all gold ornament and a traditionally Bengali style saree to the crisp dhutis-and-fabulous shawls of the men, all were up to the mark. Bulbbul is said to be set in Kolkata.
Bulbbul is currently streaming on Netflix.
 
Last Updated Jun 24, 2020, 8:08 PM IST