Attack on Titan: Creator Hajime Isayama reveals exciting addition to manga collection; READ
Discover the latest developments in the world of Attack on Titan! Hajime Isayama announces a new volume with an artbook and an 18-page addition for Volume 35. Get insights into what's to come and the series' enduring legacy. Stay updated on this iconic manga and its anime adaptation as it evolves.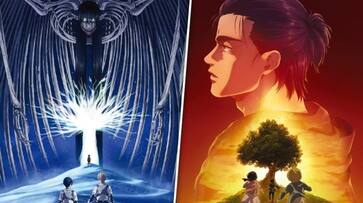 The renowned author and illustrator of the Attack on Titan manga, Hajime Isayama, on September 30, unveiled the upcoming release of a new volume in his series, slated for April 2024 in Japan. This upcoming installment will not only feature a comprehensive illustration artbook but also introduce a fresh 18-page addition to the franchise, named Volume 35.
While the specific content of Volume 35 remains shrouded in mystery, it's poised to contribute further to the story's ultimate resolution. There exists a possibility that these extra pages might delve into other aspects of the narrative. Nevertheless, the timing couldn't be more perfect, with the anime's concluding episodes scheduled for late 2023 and the promise of new manga content in 2024. This revelation ensures that fans of the series have an exciting future to anticipate.
It's important to note that, due to its brevity, the forthcoming story within Volume 35, included as part of an art book, may not carry profound significance within the overarching narrative.
Furthermore, it's worth considering that these new pages may expand upon the contentious extra content introduced in the 34th volume, potentially addressing some of the criticisms and providing further insight into the world's final state as depicted in that issue. However, any such developments are unlikely to diminish the enduring legacy of Isayama's work, as the Attack on Titan manga stands as one of the most influential contributions to the medium of all time.
Isayama originally introduced the series in Kodansha's Bessatsu Shonen Magazine in September 2009, running it until April 2021, spanning a total of 34 volumes, with Volume 35 on the horizon. The anime adaptation, initially produced by Wit Studio and first airing in 2013, saw Wit Studio overseeing production up to its third season. Subsequently, MAPPA Studios took the reins for the fourth season, which is set to conclude the television anime adaptation later this year with a one-hour special.
ALSO READ: Scoop: Karishma Tanna nominated for Best lead actress in Hansal Mehta directorial for Busan Film Festival
Last Updated Oct 1, 2023, 12:53 PM IST