'A Haunting in Venice': Detailed glance at cast list and characters of Agatha Christie thriller
A detective entrusted with solving a complex murder case is the main subject of the movie.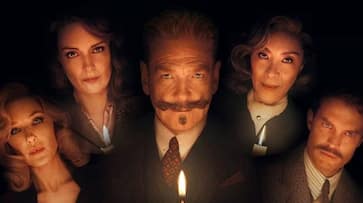 Kenneth Branagh plays the main character in A Haunting in Venice, and numerous other actors play significant supporting roles. Based on the acclaimed novel Hallowe'en Party by Agatha Christie, Branagh directed and Michael Green wrote the film.  Hercule Poirot, the main character, is portrayed by Kenneth Branagh in A Haunting in Venice. He is a detective tasked with unravelling a complicated murder mystery. The story's main character is Hercule, therefore it will be interesting to see how the movie develops him. Branagh looks fantastic in the movie's trailer, and fans should expect him to provide a very outstanding performance. He gained the most notoriety as an actor thanks to his roles in films like Death on the Nile, Tenet, Oppenheimer, and This England, to mention a few.
ALSO READ: Mark Antony LEAKED: Vishal, SJ Suryah's film on Tamilrockers, Telegram and other torrent sites
Maxime Gerard is played by Kyle Allen in the newest horror film. Hercule spends a lot of time questioning Maxime, one of the original suspects in the murder case. Allen gives a strong first impression in the movie trailer and promises to give a sophisticated and nuanced performance. He has already made appearances in a large number of other films and TV episodes, including The Path, American Horror Story: Apocalypse, and The In Between. Check out the trailer here:
In 'A Haunting in Venice', Olga Seminoff is portrayed by Camille Cottin. She works as a housekeeper and is renowned for being incredibly devoted. Other than that, there aren't many other facts about her character that are currently known, but viewers may anticipate her to be important to the plot. For her roles in House of Gucci, Les Éblouis, and Connasse, among many others, Camille Cottin is well-known. In this movie, we also see Jude Hill as Leopold Ferrier, Jamie Dornan as Dr Leslie Ferrier, Kelly Reilly as Rowena Drake, Michelle Yeoh as Joyce Reynolds, Tina Fey as Ariadne Oliver, Riccardo Scamarcio as Vitale Portfolio, and Ali Khan as Nicholas Holland.
Also read: Mark Antony LEAKED: Vishal, SJ Suryah's film on Tamilrockers, Telegram and other torrent sites
Last Updated Sep 15, 2023, 12:12 PM IST