ODI World Cup 2023: India's terrible batting collapse draws flake from fans as Twitter reacts
The men in blue gave away the advantage of low target by their usual top-order collapse. Rohit Sharma, Ishan Kishan, and Shreyas Iyer were all dismissed for ducks. This caused a huge outpour by Indian fans on social media.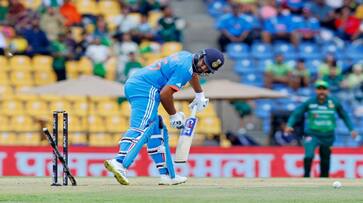 The Indian batting lineup especially the top order showed its true colors once again as they fell like a pack of cards. Ishan Kishan, Rohit Sharma, and Shreyas Iyer massively flopped with the bat in the first game causing panic among fans. 
India came to bat with a comfortable target in their sight. However, the top order had to ruin it as well as Ishan Kishan was out on the fourth ball of the first over itself. Mitchell Starc dismissed him for a golden duck. It was the Indian captain who followed him soon enough thereafter. 
Also Read: ODI World Cup 2023: Virat Kohli takes a spectacular catch at the slips, Jasprit Bumrah shows aggression
Rohit Sharma also walked back to the dressing room for a duck thanks to Josh Hazlewood. Shreyas Iyer couldn't control the floodgates as Josh Hazlewood dismissed him as well for a duck. The men in blue suddenly were at 2 runs with a loss of three wickets.
Some fans on their TV sets and mobile phones were wondering if they were witnessing a cricket match or a football match with such a scoreline in place. Indian fans have caused an uproar on Twitter after the usual suspects of the Indian team were caught off guard again. 
Rohit Sharma has been massively out of form for a long time. Apart from once in a dozens good inning, he has offered not much besides taking up the place of some talented youngster. This has been the story of Indian cricket for a long time where seniors are accommodated at the cost of talented youngsters.
Twitter Reaction to India's collapse
Last Updated Oct 8, 2023, 7:47 PM IST