ODI World Cup 2023: Hardik Pandya's return and SKY's form could endanger Shreyas Iyer's place in the team
Shreyas Iyer managed to score only four runs against England on Sunday while his direct competitor Suryakumar Yadav smashed crucial 49 runs which helped India surpass 200 runs. Shreyas Iyer runs the risk of losing his place in the team due to poor form.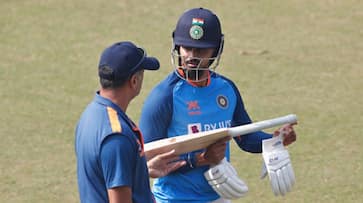 Suryakumar Yadav did well when India desperately needed some crucial runs after the top-order collapse. The men in blue for most of the time in the first inning against England were not in an advantageous position due to the nature of the pitch. The slow surface deceived batters from both sides on Sunday. 
When India desperately needed runs, Suryakumar Yadav stood up and delivered 49 runs. In arguably the toughest pitch in the ODI World Cup 2023 so far, the Indian batter showed why he was chosen ahead of many other batters in the World Cup squad. His patience was evident in the last game.
Also Read: ODI World Cup 2023: Pakistan desperate to revive campaign as South Asian derby takes shape
A new dilemma could take its shape when the imminent return of Hardik Pandya takes place in the Indian cricket team. The all-rounder has already started training and he is expected to be available from next week. In such a scenario, someone from the batting lineup will have to sit outside to make way for Hardik Pandya.
Suryakumar Yadav proved his worth on that tough Lucknow pitch against England. While Shreyas Iyer is still struggling to slot runs at the number 4 position. His short ball struggles were evident once again as Chris Woakes tapped on his weakness and picked up the wicket.
With the current form of Shreyas Iyer, Suryakumar Yadav could get the nod to continue in the starting 11. When Hardik Pandya returns, Shreyas Iyer is likely to get the axe for his lack of runs so far in the ODI World Cup 2023 tournament.
Last Updated Oct 30, 2023, 5:28 PM IST