NZ star Rachin Ravindra visits grandparents in Bengaluru; grandma prays to ward off evil (WATCH)
In a widely circulated video on X, Rachin Ravindra's grandmother is captured engaging in a viral moment as she performs a traditional prayer to ward off evil spirits during the Indian-origin New Zealand cricketer's visit to his grandparents in Bengaluru.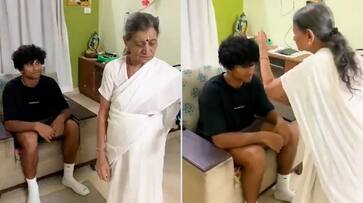 In a heartwarming glimpse into the personal life of Indian-origin New Zealand cricket sensation Rachin Ravindra, a beautiful video captures the player at his grandparents' home in Bengaluru. The footage, undoubtedly a source of joy for fans, provides a rare look at the cricketer in a more private and serene setting. Beyond the cricket field, the video showcases Rachin Ravindra's connection to his roots and the importance of family.
Also read: Is marriage on the cards for Shubman Gill and Sara Tendulkar? UAE cricketer accidentally said THIS (WATCH)
In the video that has gone viral on X, Rachin Ravindra's grandmother can be seen praying to ward off evil while the Kiwi batter sits patiently for her to complete the age-old tradition. Rachin takes pride in his strong India connect and ethnicity, but the all-rounder considers himself a 'complete Kiwi'. Born to Indian parents in Wellington, Ravindra has his family roots in Bengaluru.
In the New Zealand versus Sri Lanka match in Bengaluru on Thursday during the ongoing ODI World Cup 2023, Rachin Ravindra achieved a significant milestone by surpassing Jonny Bairstow's record for the most runs in a maiden World Cup edition. Bairstow had set the previous record with 532 runs in 11 innings during the 2019 edition when England emerged victorious.
Ravindra, the Kiwi batter, broke this record in his ninth innings of the ongoing World Cup, accumulating a total of 523 runs in eight innings at an impressive average of 74.71. His stellar performance included three centuries and two half-centuries, making him the leading run-scorer for New Zealand in the tournament.
Prior to the Thursday game, Rachin Ravindra also eclipsed Sachin Tendulkar's record for the most runs in a World Cup edition before the age of 25. Tendulkar had scored 523 runs in the 1996 World Cup, a milestone that Ravindra surpassed in the 2023 edition, further solidifying his remarkable achievements in the tournament.
Last Updated Nov 10, 2023, 2:36 PM IST