Journalist's question to Shreyas Iyer about 'problem' with short ball irks Indian batter; WATCH angry response
Anticipating inquiries about his vulnerability to short deliveries, Shreyas Iyer, following his impressive 82 runs against Sri Lanka in the ODI World Cup 2023 clash on Thursday, was prepared to swat away any such questioning.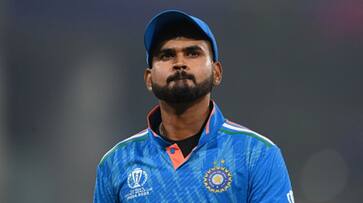 Indian batting star Shreyas Iyer anticipated scrutiny regarding his vulnerability to short balls after a striking performance of 82 runs against Sri Lanka in the ODI World Cup 2023 clash at Mumbai's Wankhede Stadium on Thursday. In his post-match press conference, it appeared that he was primed to confront any such questions head-on, ready to dismiss the concerns.
A journalist asked Shreyas Iyer about his weakness against the short ball, which irked the Indian batter, who responded, "When you say it's a problem for me what do you mean?"
Also read: India vs Sri Lanka: Virat Kohli dancing to 'My name is Lakhan' during WC clash goes viral (WATCH)
"Troubled me? Have you seen how many pull shots I've scored? Especially, which has gone for four?. IN my mind, I have no problems with short ball," Iyer replied to the query, seemingly agitated with the use of word 'problem'.
According to Shreyas Iyer, the risk of getting out is an inherent part of being an aggressive batter. "If you're trying to hit a ball, you're bound to get out anyway. Irrespective of it's a short ball, (or) it's an over-pitch. If I get bowled two or three times, you all would say that OK 'he can't play an in-swinging ball' or 'he can't play a cut if ball is seaming'," he said.
"We, as players, are bound to get out on any sort of deliveries. You guys have created that environment outside that 'he can't play a short ball'. And I feel that people are picking that up every now and then and it plays on your mind regularly and you keep working on that," Shreyas Iyer added.
The Indian batting star underlined his familiarity with tackling short balls, attributing his experience to playing most of his domestic cricket at the Wankhede Stadium. 
"Coming from Mumbai, especially from Wankhede, where the bounce is pretty much even and it bounces way more than any other pitches. So, I've played (the) majority of my games here, so I know how to tackle it," he said.
Despite external perceptions, Shreyas Iyer remained confident in his ability to face short balls. He acknowledged the occasional failure in executing shots but insisted that, in his mind, there was no issue with this aspect of his game.
"It's just that when I go to hit some shots, you are bound to get out and sometimes it may work, sometimes it may not. And (the) majority of the times it hasn't worked for me, maybe that's the reason you think it's a problem for me. But in my mind, I know there's no problem," he said.
Also read: Goosebumps! Vande Mataram reverberates in Wankhede Stadium after India crush SL in WC clash (WATCH)
The Indian cricketer also admitted that it was very difficult for him to move after his back injury he suffered earlier this year. "Yes, it was a difficult ride to come out of an injury, especially in terms of fielding. I wasn't able to move as I used to before. But the trainers and the physios, they worked pretty hard on me, especially in terms of recovering after the games, because 50 overs, it takes a lot of toll on your body," Shreyas Iyer said.
The middle-order mainstay humorously remarked that observing the exceptional performance of the Indian bowlers against Sri Lanka—limiting them to a mere 55 runs in 19.4 overs—it was fortunate that the batters did not have to face them in an actual match scenario. "Yeah, looking at today's bowling and the previous game, definitely, we are lucky not to play against them. But at the same time, we batted them in the nets. So, it gives us an added motivation to come and play any sort of bowlers," he said.
Shreyas Iyer acknowledged his failure to convert initial opportunities into significant scores during certain World Cup matches but aimed to adopt a more assertive approach in batting against Sri Lanka.
"It was playing on my mind right from the start, because I was getting tremendous starts in the first few games. I wasn't just able to capitalize on what I was getting to. I just told myself that if it's there in my area, I'm just going to go take the bull by the horns. And yeah, fortunately, it worked for me and I hope that it keeps on working for me in the future as well, because the team is in a great space at the moment," he added.
Iyer lauded India's formidable bowling attack, highlighting their collective experience and their ability to assess field conditions effectively. "They are so experienced. They know exactly what is happening on the field. And as a batsman, we keep exchanging our information, especially if you're going to bat next. They come in and they talk about the conditions, what is happening and in that conversation the bowlers are also around and they also watch what is happening on the field," he stated.
"I feel they are experienced enough to pick up how the wicket is playing and what they'll be able to execute in the second innings, if we are bowling second. If they are bowling first, then definitely they are individual bowlers to know what is happening. And they're so experienced that we don't have to tell them basically anything," Shreyas Iyer added.
Last Updated Nov 3, 2023, 9:27 AM IST