Indian Cricket on the cusp of evolution as young guns to step up and create new legacy after World Cup debacle
The Indian cricket team could soon see an evolution like it did when MS Dhoni passed the baton to a young Virat Kohli. However, the question remains which youngster should get the responsibility for the future of Indian cricket?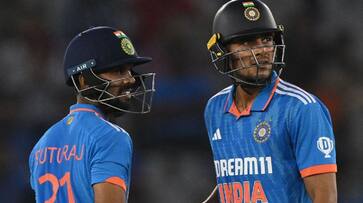 The men in blue are currently stacked with ample senior star players who have flocked the playing 11 of the Indian cricket side for quite some time now. India, currently is one of the most ageing sides as it is filled with star players who are nearing the 35 age mark.
Rohit Sharma, Virat Kohli, Mohammed Shami, Ravindra Jadeja, Surya Kumar Yadav, and Ravichandran Ashwin could have already played their last ODI World Cup game on Sunday. India faced a humiliating loss at the hands of Australia as the young guns of the side such as Shubman Gill, Shreyas Iyer, and Kuldeep Yadav failed to step up in the crucial game. 
Also Read: PCB Chief Selector Wahab Riaz announces Pakistan squad for Australia tour, picks 3 uncapped players
The senior star players couldn't be around for a longer duration as they are quickly approaching the fag end of their careers. In such a scenario, the baton will certainly be seen in the hands of India's young guns. Players like Shubman Gill, Yashasvi Jaiswal, Ruturaj Gaikwad, Ishan Kishan, and Shreyas Iyer will be more involved in the three formats as the senior players slowly move away from the picture.
However, the question of long-term captaincy lingers around the team as it nears an evolution after a long time. The last time the Indian cricket team saw an evolution was when MS Dhoni handed over the responsibilities of the team to Virat Kohli. That happened a long time ago and the transition was not easy but with MS Dhoni's presence, everything went smoothly without any controversy or issue. 
The Indian management will carefully need to think out a strategy for the transition from senior players to young guns. India will soon have a lack of senior figures in all the departments. The age gap is such on the current side that when the transition takes place, the men in blue will be stacked with young guns aka up-and-coming stars.
A former India selector said, "India might not have the services of their big players for a long time now. The authorities will have to plan well in advance for the next three or four years and give consistent chances to young players like Jaiswal and Gaikwad so that they are mentally ready when a big tournament comes around. 
It is important to keep the communication clear with all the players, tell them in advance that we are going to stick with you for this much period of time and we will give you this many chances no matter what your performances are. It is important to keep a player in the loop because uncertainty can affect a cricketer's mind and thereby his performance. But again it all depends on how hungry they are for success."
Last Updated Nov 20, 2023, 8:11 PM IST