Exclusive: Gill's mentor Yograj reveals how Yuvraj played key role in improving double centurion's batting
Shubman Gill stunned the world after slamming his maiden ODI double hundred during the Hyderabad ODI opening against New Zealand. Meanwhile, Yograj Singh has revealed that Gill worked on his right hand with Yuvraj Singh.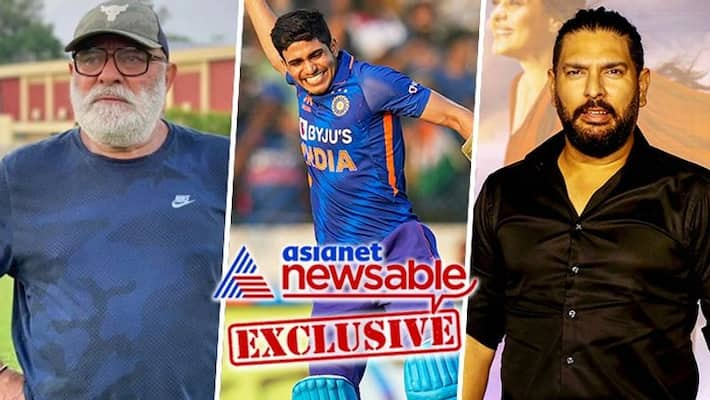 Young Indian opener Shubman Gill was the star of the Indian batting attack, as he slammed 200 during the opening One-Day International (ODI) against New Zealand at the Rajiv Gandhi International Stadium in Hyderabad on Wednesday. As he became the youngest batter in the world to do so, the youngster from Punjab revealed that he was desperate to walk out in the middle and play his natural game, which eventually paid off. Meanwhile, one of his mentors, Yograj Singh, father of Yuvraj Singh, analysed Gill's batting and revealed how the ICC World Cup 2011-winning batter played a crucial role in helping the youngster improve his batting.
Speaking exclusively to Newsable, Yograj said, "Yuvi [Yuvraj] deserves all the credit for nurturing him [Gill], and it is his hard work that has transformed Gill into the next-level player. It's a great effort, and I'm proud that my son has achieved a lot with Punjab cricketers, and one of them is Shubman Gill."
ALSO READ: IND VS NZ 2022-23, 1ST ODI: 'WAS WAITING EAGERLY TO GO OUT AND DO WHAT I WANT TO DO' - GILL ON HIS 200
Further analysing Gill's batting and transformation, Yograj remembered, "When Yuvi and I were working with Gill at a camp in PCA's [Punjab Cricket Association] new stadium, his lower right hand used to remain relatively tight, which was alright for cutting the ball. We realised it needed some work, and Yuvi worked a lot on the same."
"I also chipped in and came up with the advice that let's take a squash ball, cut it in half and place it inside the batting gloves. While there would initially be a feeling of stiffness, it would eventually get loose, freeing his arms and playing the strokes more freely. The plan finally worked," added Yograj.
ALSO READ: IND vs NZ 2023, 1st ODI - Gill's double ton gives India 1-0 lead against Kiwis; Bracewell's heroics wins hearts
"Credit goes to Yuvi again for efficiently implementing the technique. He has worked with him [Gill] for six-seven months. They have been in constant touch with each other, even on the phone while Gill was on international duty, and taking tips and advice from him. Even I gave them my advice whenever necessary," Yograj continued.
"Nonetheless, his [Gill's] right hand is working fine, especially when lifting the ball over mid-wicket and mid-on. Also, considerable credit goes to Rahul Dravid [Indian head coach] for working with him. It's great for Indian cricket for a player to score a double hundred, and scoring against New Zealand makes it even great since it is currently the number one ODI side. He is lovely and extremely happy for him, and I'm sure once Punjab cricket comes under Yuvi, many more state cricketers will be playing for India," concluded Yograj.
Last Updated Jan 19, 2023, 6:37 PM IST