Highest Wicket Takers for India in World Cup history
India has had legendary figures of fast bowlers feature for the national side who performed exceptionally well in the World Cup as well. Mohammed Shami's ruthless exploits on Thursday against Sri Lanka broke and created many records.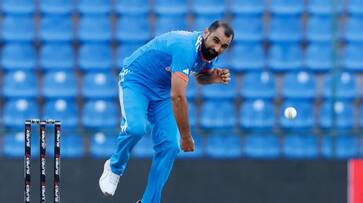 Bowlers play a huge role in a team, especially in a big tournament such as the ICC Cricket World Cup. Many records were broken on Thursday after Indian bowlers inflicted mayhem on Sri Lankan batters. Mohammed Shami gained the most on Thursday as he etched himself in the record books. 
Mohammed Shami, Mohammed Siraj, and Jasprit Bumrah's courageous display created many individual records as well as team records. India has become a nightmare team for the opposition as their lethal bowling attack has taken other batters for sweepers. However, has the Indian bowling lineup always been like this?
Also Read: ODI World Cup 2023: Indian bowlers rattle Sri Lankan team to a record defeat, Shami picks five wickets
In terms of collective effort, the men in blue have lacked a core bowling attack. Back in the day, Zaheer Khan was the top fast bowler for India. But MS Dhoni's team didn't have a similar quality type fast bowler while Rohit Sharma has three similar lethal fast bowlers in the form of Mohammed Shami, Mohammed Siraj, and Jasprit Bumrah.
Highest Wicket Takers for India
1 - Mohammed Shami
Mohammed Shami became the highest wicket-taker for India in the history of the World Cup. He achieved the feat with his five-wicket haul against Sri Lanka on Thursday. Mohammed Shami now has 45 wickets in just 14 innings in the World Cup history.
2 - Zaheer Khan
The undisputed king before today, Zaheer Khan has 44 wickets in 23 innings. He was a leader in the pack of the Indian fast-bowling lineup. The incredible Indian legend played a crucial role in the 2011 ODI World Cup through his accurate bowling.
3 - Javagal Srinath
Javagal Srinath was a force to be reckoned with in the 90s era for the Indian cricket team. He picked 44 wickets in 33 innings back in the day when batters had a lot of advantage in the game.
4 - Jasprit Bumrah
The Indian fast bowler slightly bettered his wicket-taking tally by picking one wicket against Sri Lanka on Thursday. He has 33 wickets in 16 innings in the World Cup history. There is a high probability that this could be Bumrah's last World Cup. 
5 - Anil Kumble
Anil Kumble is the only spinner to feature in the list of the top 5 highest wicket-takers for India in the World Cup. The legendary spinner from Karnataka has 31 wickets in 18 innings. In his playing time, Anil Kumble took 1 four-wicket haul. 
Last Updated Nov 2, 2023, 9:26 PM IST