India vs Australia - History in ICC ODI World Cup battles
Explore the cricketing saga between India and Australia in the ICC ODI Cricket World Cups, spanning over four decades. With 13 encounters, the rivalry showcases moments of triumph and defeat, featuring legendary players like Ricky Ponting and Kapil Dev.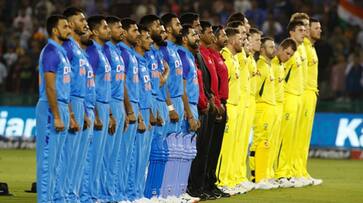 In 1983, the teams met twice in the group stage, each winning one match. Australia defeated India by 162 runs, and in the second encounter, India emerged victorious by 118 runs. The pattern continued in 1987, with one win each in the group stage. Australia won the first match by just one run, while India responded with a 56-run victory in the second clash.
The encounters in subsequent years saw varying results: Australia won by one run in 1992, defeated India by 16 runs in 1996, and claimed a 77-run victory in 1999. In 2003, Australia won by nine wickets, and in the final, they triumphed over India by 125 runs.
In 2011, India secured a five-wicket victory against Australia in the quarter-final, while in 2015, Australia emerged triumphant with a 95-run win in the semi-final. In 2019, India won by 36 runs, and in the latest encounter in 2023, India defeated Australia by six wickets on October 8.
Ricky Ponting holds several records in India-Australia ODI World Cup matches, including the highest runs with a total of 303 in five matches. Ponting also has the highest individual score, an unbeaten 140 runs from 121 balls in the 2003 World Cup final.
Ponting's prowess extends to centuries, as he scored two in the 2003 and 2011 World Cups. Additionally, Ponting leads in the category of most sixes, having smashed 10 in five matches.
On the bowling front, former Australian pacer Ken MacLeay recorded the best figures by dismissing six Indian batters for 39 runs on June 13, 1983. Meanwhile, legendary Indian all-rounder Kapil Dev holds the record for the most wickets, picking up nine in five World Cup matches.
Also Read: 'You guys are the best...': Floy Mayweather heaps praises on Team India ahead of WC final
Last Updated Nov 18, 2023, 2:08 PM IST