Cummins eyes extension as Australia's ODI captain post ODI World Cup 2023; opts to put name in IPL auction
Australian cricket star Pat Cummins expresses his interest in continuing as Australia's ODI captain after a commendable World Cup 2023 campaign.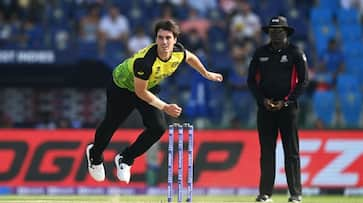 Cummins is open to extending his tenure as Australia's ODI captain, expressing a desire to continue leading the team beyond the ongoing World Cup. Initially appointed as the Test team captain, Cummins assumed the ODI leadership following Aaron Finch's sudden retirement last year. With Australia's impressive World Cup performance, including seven consecutive wins after two initial losses, Cummins has built a compelling case for an extension as captain.
Addressing questions about his future in ODI captaincy, the 30-year-old stated, "Potentially, yes. We'll discuss it. Andrew (head coach) and George (selector) and I have been quite transparent about how priorities may shift at different times during the year. This year is unique with several significant off-season events. Once the World Cup concludes, attention will turn back to Test cricket for an extended period. Like in the past, we may need to adjust the emphasis on white-ball cricket to fully concentrate on Test cricket, and there's no set end date in sight."
Reflecting on his management and workload throughout a hectic year, Cummins commented, "I feel well-managed and supported during a particularly busy year where giving up any cricket wasn't ideal."
In another development, Cummins, who had opted out of the IPL in 2023 to focus on international commitments, announced his intention to participate in the auction for the 2024 edition. The IPL, scheduled before the T20 World Cup in the United States and the Caribbean, provides an ideal platform for global event preparation. Kolkata Knight Riders had acquired Cummins for Rs 7.5 crore in the 2022 IPL auction.
"I haven't played much T20 cricket recently, and I haven't delivered my best performances in that format for a while. I'm genuinely excited and planning to enter the IPL auction next year to secure some matches before the World Cup, aiming to not only earn a spot in the squad but also rediscover my optimal form in T20 cricket," Cummins expressed.
It is anticipated that Mitchell Marsh will lead Australia in the upcoming T20 World Cup.
Also Read: Babar Azam to discuss captaincy fate with PCB chief after poor show at the ICC ODI World Cup 2023
Last Updated Nov 14, 2023, 12:27 PM IST