ODI World Cup 2023: Kane Williamson's inclusion in New Zealand's squad amid recovery uncertainty
New Zealand's ODI captain, Kane Williamson, is on the verge of being named in the national team's World Cup squad despite ongoing uncertainty surrounding his recovery from a knee injury sustained during IPL 2023.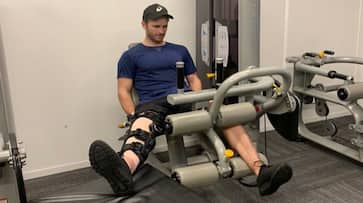 Kane Williamson, the captain of New Zealand's ODI team, is set to be included in the World Cup squad. However, it remains uncertain how much of the World Cup he will be able to participate in. Gary Stead, the head coach of the Black Caps, expressed that the 33-year-old batsman has made significant progress in recovering from a knee injury he sustained while playing for the Gujarat Titans in the opening game of IPL 2023. Stead praised Williamson's dedication to his rehabilitation and the support he has received from a team of experts. He emphasised that Williamson has been meticulous in his efforts to return to the highest level of cricket and that the selection panel is pleased to consider him for the squad.
At the same time, Stead noted that Williamson has been cautious about not rushing his recovery or returning too early. He also highlighted that Williamson's desire to contribute to New Zealand cricket in the long term is commendable.
Stead clarified that there are no fixed timelines for Williamson's participation, and his progress will be closely monitored in the lead-up to the World Cup, which kicks off with a match against defending champions England on October 5 in Ahmedabad. The management aims to provide Williamson with as much time as possible to aid his recovery, given the extended duration of the tournament.
Williamson has been in rehabilitation since undergoing surgery to repair a ruptured anterior cruciate ligament in late April. He resumed training in early August and has been gradually increasing his training workload, raising hopes that his participation in some part of the World Cup is now a realistic possibility.
Throughout this process, Williamson has maintained an open-minded approach regarding his return to cricket, avoiding fixation on a specific date or match. He acknowledged that being selected for the squad doesn't alter his focus on the ongoing work and daily goals required to make a successful return to the field with the team. The announcement of the remaining members of New Zealand's World Cup squad is scheduled for September 11.
Also Read: ODI World Cup 2023: Gautam Gambhir's surprising choices for India's squad
Last Updated Sep 5, 2023, 9:34 PM IST