Afghanistan cricket star Rahmanullah Gurbaz's heartwarming gesture on Ahmedabad streets goes viral
Afghanistan's wicket-keeper, Rahmanullah Gurbaz, captured hearts as a viral video showcased his compassionate act on an Ahmedabad street at 3 am.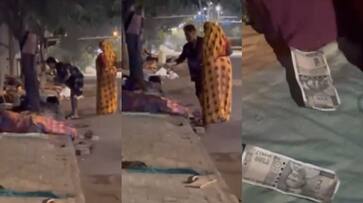 Witness a touching moment as Rahmanullah Gurbaz, Afghanistan's opening batter, extended a helping hand to those in need on an Ahmedabad street at 3 am. The heartening act was captured in a video that quickly went viral on social media, prompting Kolkata Knight Riders (KKR), the team he represents in the Indian Premier League, to share the clip. Gurbaz can be seen generously giving money to people sleeping on the roadside. KKR expressed admiration for his altruism, acknowledging his previous efforts in raising funds for the victims of the Herat Earthquake in Afghanistan.
Coach Jonathan Trott, reflecting on Afghanistan's World Cup performance, acknowledged the team's strengths in both bowling and batting, emphasizing the flexibility demonstrated in their victories. Despite the disappointment of missed opportunities, Trott highlighted the positive improvements and expressed anticipation for a brighter future with a broader pool of players. Afghanistan's standout performers with the bat in the World Cup included Ibrahim Zadran, Azmat Omarzai, Rahmat Shah, and skipper Hashmatullah Shahidi. Trott emphasized the team's ability to win in diverse ways, not solely relying on their traditional bowling strength. As the IPL auction approaches, there is keen anticipation to see Rahmanullah Gurbaz's name come up, reflecting the excitement and interest in his potential future endeavors in the league.
"If you'd said we won four games you probably would have taken it - especially after losing the first game against Bangladesh," Trott said during the post-match press conference.
"But it's still a case of sitting here today thinking there's a few other games that we left out there that we could have perhaps won.
"So as a coach and as a member of the team, we're disappointed with that, but you can't have everything. You can't win always. But I see some good improvement." Bowling has always been their strength but in this World Cup, Ibrahim Zadran (376), Azmat Omarzai (353), Rahmat Shah (320) and skipper Hashmatullah Shahidi (310) shone with the bat as Afghanistan managed to chase down targets in three of their four wins.
"Normally, with the side, you'd say bowling would be the strength," Trott said.
"So, you'd try and put the pressure on the bowlers - but to be able to knock off targets in pretty comfortable fashion and responsible fashion certainly shows that we're not sort of one way inclined to win cricket games. We can win in various ways." "I'm anxious to watch IPL auction when his name comes up."
Also Read: ODI World Cup 2023: Virat Kohli claims first international wicket in 9 years
Last Updated Nov 13, 2023, 12:34 PM IST