Babar Azam 'sexting scandal': How a parody Twitter account sent global media on wild goose chase
Pakistan skipper Babar Azam started trending globally after a parody Twitter account's tweet accusing the cricket of allegedly sexting a teammate's girlfriend went viral online.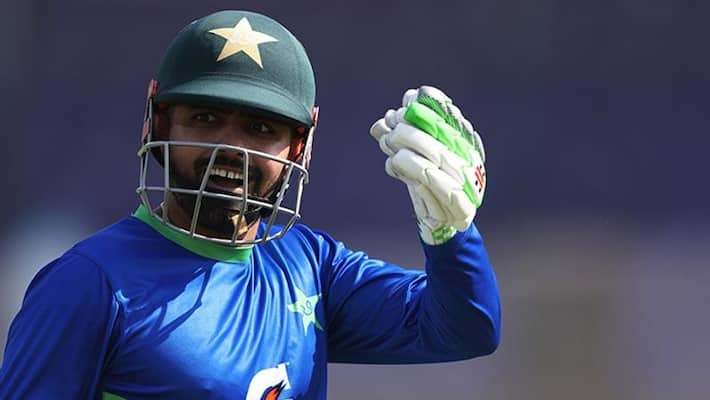 Fake news remains a challenge in today's highly volatile world, and social media platforms, which have for years known to spread a lot of misinformation, often ignite controversies or rumours that sometimes become bait for media houses worldwide. And on Monday, a verified parody Twitter account 'Dr Nimo Yadav' (@niiravmodi), tricked the global media with a 'sexting scandal' involving Pakistan captain Babar Azam.
Also read: IND vs SL 2022-23, 3rd ODI: Kerala Sports Minister defends over comments of ticket rates following low turnout
"Babar Azam sexting with gf of another Pakistan cricketer and promising her that her bf won't be out of team if she keeps sexting with him is just. I hope Allah is watching all this," the satirical tweet read, which had posted a video and screenshot allegedly of the Pakistan skipper.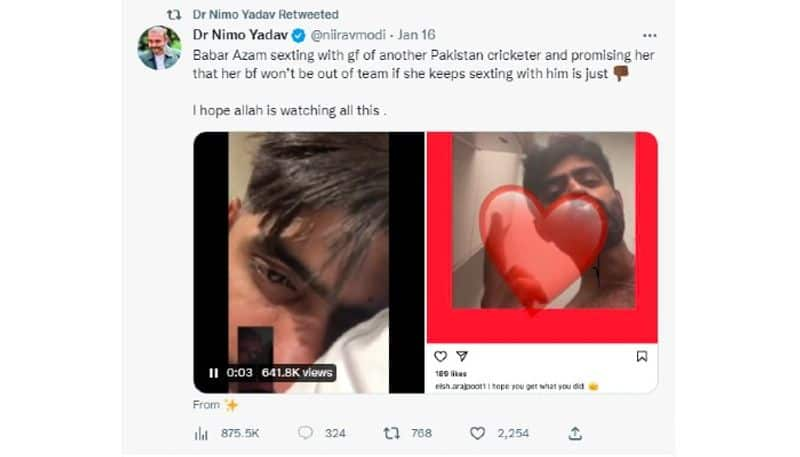 In no time, Babar Azam's 'sexting scandal' was climbing the trending charts, despite the 'leaks' having no basis in reality. Not just some of the big names in the Indian media circuit but a few global players too fell for the satirical tweet, and the Pakistan captain's 'sexting scandal' became an overnight sensation on global trends. 
#StayStrongBabarAzam, #IStandWithBabarAzam, etc. starting trending on Twitter, with some fans of the cricketer stating that the alleged scandal is part of a campaign to target Babar Azam, who has come under fire in recent times due to a run of poor performances. A few Twitter users claimed that the satirical tweet was fake and that the person in the alleged leaks resembled the Pakistan skipper.
Also read: 'Road to recovery has begun; ready for the challenges ahead' - Rishabh Pant after successful surgery
To add more fuel to the fire, the parody Twitter account also said, "What's wrong if Babar Azam is dating 4 girls at a time and promised everyone for the marriage? In Islam 4 marriages are legal, he would marry all 4 of them. Please stop making fuss about it."
"This Babar Azam and another cricketer gf sexting story reminds of movie Sholay where Basanti dances in front of Gabbar to save Veeru," 'Dr Nimo Yadav' added.
However, all the hue and cry was dubbed meaningless after the same parody Twitter account tagged several media accounts a few hours later to expose how they covered the 'sexting scandal' surrounding Babar Azam without verifying the story was fake or not.
"What a clown media we have, [media outlet] telecasted a dedicated show based on my satirical tweet and put nasty allegations on Babar Azam without even verifying the source of the news (me)," 'Dr Nimo Yadav' wrote.
Also read: Who does Virat Kohli credit for creating 'big difference' in his batting?
In another tweet, the parody Twitter account added, "Have never seen such a fool journalist, this is a pathetic campaign Indian media is running against Babar without any evidence."
'Dr Nimo Yadav' also noted that the 'sexting scandal' even caught the international media's attention stating, "Matter khatm ho gya bhai, baat international chali gayi bhai ki."
"How can one even believe this shit? Really feeling sorry for Babar Azam," wrote the parody Twitter account.
To bring the hysteria under control, 'Dr Nimo Yadav' stated, "On a serious note, to all who are saying you should not have done this Don't enjoy when I do this to people or party you don't like Second I don't go to anyone here to RT or like my tweet in DM Third it's not my job Media is picking what news Fourth I use twitter for my fun."
The parody Twitter account also deleted his original Babar Azam 'sexting scandal' tweet, which sparked a massive outburst on Twitter. In a tweet, he apologised to the Pakistan skipper for creating such a media frenzy around a fake sexting scandal and noted, "I am sorry @babarazam258. I have deleted that post on the request of an Indian cricketer in DM. Peace."
Last Updated Jan 17, 2023, 2:10 PM IST