'We are in a state of war against ruthless terrorists...' IDF chief admits lapses, but vows to dismantle Hamas
Lieutenant General Herzi Halevi, Chief of Staff of the Israel Defense Forces, openly addresses security lapses following a recent Hamas incursion. He acknowledges the need to investigate and learn from these failures while emphasizing the ongoing state of war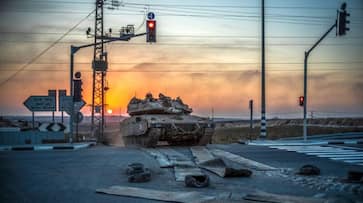 As Israel amassed tanks along the Gaza border in anticipation of a ground invasion, amid international appeals for restraint, Lieutenant General Herzi Halevi, the Chief of Staff of the Israel Defense Forces, publicly acknowledged shortcomings in the wake of the heinous Hamas incursion last Saturday. Lt Gen Halevi vowed that his forces would learn from the security lapses surrounding Gaza, stating, "We did not handle it (security of Israel) on Saturday. We will investigate and learn from these failures, but for now, we are in a state of war."
He further remarked, "We find ourselves five days after a brutal and horrifying event, the massacre committed by the merciless and inhumane Hamas terrorists against our children, women, and people. It is a barbaric act that defies humanity. The IDF is engaged in a battle against ruthless terrorists who have perpetrated unimaginable atrocities wherever human life exists."
In retaliation for the deadliest attack on civilians in Israeli history, which saw hundreds of armed individuals breach the barrier and wreak havoc in towns on Saturday, Israel has pledged to annihilate the Hamas leadership in the Gaza Strip.
The Israeli death toll has risen to over 1,300, with the majority being civilians killed in their homes, on the streets, or at a social event. Numerous Israeli and foreign hostages were taken back to Gaza, with Israel confirming the identification of 97 of them.
Israel's response has involved imposing a total blockade on Gaza, home to 2.3 million people, and launching the most powerful bombing campaign in the 75-year history of the Israeli-Palestinian conflict, resulting in the destruction of entire neighbourhoods. According to Gaza authorities, over 1,400 Palestinians have been killed and more than 6,000 have been wounded.
Lt. Gen. Halevi expressed the IDF's commitment to safely retrieve approximately 200 Israeli and foreign hostages taken by Hamas into Gaza, acknowledging the heavy toll and challenges of war. He stated, "We will do everything in our power to bring the hostages back home. The cost of war is substantial and demanding. We are eliminating many terrorists and their commanders while dismantling the infrastructure that supported this heinous and brutal crime."
He also emphasized that "Gaza will undergo a transformation" and acknowledged the need for patience in the process.
Last Updated Oct 13, 2023, 8:08 AM IST