Those involved in attack on Gaza hospital should be held responsible: PM Modi condemns missile attack
Indian Prime Minister Narendra Modi expressed shock and grief at the loss of more than 500 lives in the Al Ahli Hospital attack in Gaza. He offered condolences and wished for the injured's speedy recovery. Modi called for those responsible to be held accountable. Conflicting reports emerged, with Hamas blaming Israel, while the Israeli army claimed the hospital was hit accidentally by a failed Hamas missile.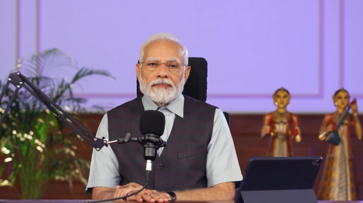 The recent attack at the Al Ahli Hospital in Gaza has claimed the lives of more than 500 people who were receiving treatment at the hospital. Indian Prime Minister Narendra Modi expressed his shock and grief at the loss of innocent lives. Modi offered his condolences to the victims' families and wished for the speedy recovery of the injured.
"Deeply shocked at the tragic loss of lives at the Al Ahli Hospital in Gaza. Our heartfelt condolences to the families of the victims, and prayers for speedy recovery of those injured. Civilian casualties in the ongoing conflict are a matter of serious and continuing concern. Those involved should be held responsible." tweeted Modi. He further called for those responsible for the attack to be held accountable.

Gaza hospital blast: Israel shares drone footage of before and after Islamic Jihad's rocket misfire (WATCH)
The situation became more complex as conflicting reports emerged. While Hamas militants initially accused Israel of a brutal attack on the hospital, the Israeli army provided a clarification for the missile attack. They revealed evidence that a missile launched by Hamas militants targeting Israel had failed and accidentally struck the hospital. The Israeli army released videos of Hamas rocket launches and the hospital before and after the attack.

Explained: What is Palestinian Islamic Jihad, the outfit accused of failed rocket attack on Gaza hospital?
In an attempt to support their claim, the Israeli army also released an audio recording of a conversation among the Hamas militants discussing the rocket's failure and its unintended impact on the hospital. Hamas, however, has not presented any documentation to support their allegations that Israel intentionally targeted the hospital.
Israel reiterated its position that it does not intentionally attack civilians and had issued warnings ahead of their military actions in Gaza due to concerns for civilian safety. They argue that Hamas militants often use civilians as human shields, making it difficult to avoid harm to non-combatants. The international community closely watches the situation, and efforts to independently verify the events are ongoing.
Last Updated Oct 18, 2023, 5:20 PM IST