Serpentine smuggling: Man's bizarre attempt to hide 14 snakes in pockets foiled at China-Hong Kong border
Discover the intriguing story of a man's attempt to smuggle 14 snakes in his pockets across the China-Hong Kong border, raising conservation concerns and legal implications.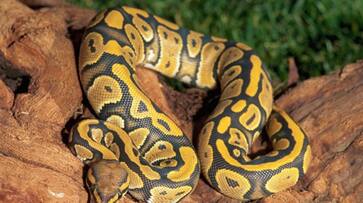 In a peculiar incident from China, a man's attempt to evade customs inspection took a serpentine turn when he concealed a total of 14 snakes within his pockets. The vigilant scrutiny of guards at the Futian Port, a prominent entry point on the China-Hong Kong boundary, led to the discovery and subsequent apprehension of the individual, whose identity remains undisclosed. The incident unfolded in Shenzhen, a city located in southeastern China.
Officials from Huanggang Customs, stationed on the Chinese side of the border, noticed the man exhibiting signs of unease and actively avoiding making eye contact, raising suspicions about his intentions. This prompted them to initiate a closer examination of his belongings. The subsequent search revealed a startling revelation: 14 snakes had been meticulously concealed within cotton socks and stockings.
The passenger, dressed in black attire and sporting a white cap, caught the attention of authorities as he nervously patted his pockets while passing through the checkpoint. His apprehensive demeanor further heightened the guards' curiosity, prompting them to take decisive action.
The snakes, confined within plastic containers, were handed over to authorities for further handling. As the situation unfolded, border agents carefully opened the socks to release each snake individually. Among the reptiles, three were identified as ball pythons, commonly known as royal pythons. It's worth noting that these creatures are categorized as "near threatened" species and find a place on the Red List of the International Union for Conservation of Nature (IUCN).
China's stringent regulations dictate that any movement of animals in and out of the country must undergo rigorous inspection and quarantine procedures to ensure legal compliance. Consequently, the 14 snakes, which were unsuccessfully smuggled across the border, would have necessitated adherence to a quarantine order and subsequent scrutiny to assess potential health risks.
This curious episode serves as a reminder of the vigilant efforts put forth by customs officials to prevent illegal activities and the smuggling of endangered species. The foiled attempt to transport 14 snakes underscores the importance of adhering to legal protocols and safeguarding the welfare of wildlife, particularly species facing conservation challenges.
Last Updated Aug 9, 2023, 12:20 PM IST