17 terrorists since March 2022: LeT's Qaiser Farooq joins list of India's most-wanted eliminated recently
Authorities are investigating the incident, which is seen as a targeted killing. This event follows a series of similar incidents involving India's most-wanted terrorists in Pakistan and the reported disappearance of Hafeez Saeed's son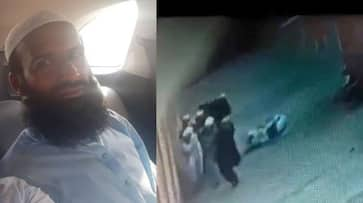 Lashkar-e-Taiba's Qaiser Farooq has reportedly joined a list of India's most-wanted terrorists to be eliminated in recent months in Pakistan, Afghanistan, United Kingdom and Canada. According to a list that has gone viral on X, formerly Twitter, 17 terrorists, including Farooq, have been killed since March 2022. The list grabbed internet users' attention even as a video, purported to be CCTV footage reportedly capturing the killing of LeT's Qaiser Farooq, went viral on Sunday. While the precise date and time of the video remain unclear, the grainy surveillance footage depicts a man, purportedly the wanted Lashkar terrorist, walking down a Karachi street among a group of people.
As gunshots ring out, bystanders scatter for cover, while the individual believed to be Qaiser Farooq falls to the ground. According to a report in the Pakistani newspaper Dawn, a person named Qaiser Farooq was indeed shot and killed in Karachi. However, we are presently unable to confirm whether this Qaiser is the same as one of India's most-wanted terrorists.
Dawn's report states that local law enforcement officials suspect that Qaiser was specifically targeted, categorizing this incident as a case of deliberate assassination. The authorities disclosed that unidentified armed assailants opened fire, injuring both 30-year-old Qaiser and 10-year-old Farooq Shakir near the Gulshan-e-Omar Madrasa, close to the Edi Center, before fleeing the scene.
As per the Dawn report, Samanabad police station in-charge Irshad Ahmed Soomro confirmed that the injured victims were rushed to Abbasi Shaheed Hospital, where Qaiser Farooq succumbed to his injuries. Notably, he had sustained gunshot wounds to the back. 
Karachi Central SSP Faisal Abdullah Chachar suggested that the absence of robbery or theft from the victims indicates a targeted killing. In recent days, there have been reports of several of India's most-wanted terrorists meeting similar fates in Pakistan.
Qaiser is recognized as one of the founding members of the banned terrorist organization Lashkar-e-Taiba (LeT) and is known to have close ties to Hafiz Saeed, the mastermind behind the 26/11 terrorist attacks in Mumbai and the chief of LeT.
The news of Lashkar terrorist Qaiser's killing in Karachi surfaced shortly after reports of Hafeez Saeed's son going missing, with the ISI unable to locate him. Kamaluddin Saeed, one of the sons of the internationally wanted terrorist Hafeez Saeed, has been unaccounted for since Tuesday, September 26, following an alleged abduction by unidentified individuals in Peshawar, who reportedly arrived in a car.
Hafiz Saeed, a Pakistani national and the mastermind behind the 26/11 terror attacks in Mumbai is an internationally designated terrorist currently incarcerated in a Pakistani jail.
Social media handles have been abuzz with a list of those wanted by India being killed in recent months. One such list was shared by the Twitter handle Megh Updates listed. Asianet Newsable doesn't vouch for the authenticity of this list.
- Zahoor Mistry - IC-814 hijacker (Shot dead in Karachi): Mistry was reported to have been killed on March 1, 2022, by two bike-borne assailants in Karachi's Akhtar colony.
- Ripudaman Singh Malik - 1985 Air India bombing (Shot dead in Surrey): Malik, who was acquitted in 2005 of mass murder and conspiracy charges related to the two bombings in 1985 that killed 331 people, was reportedly shot dead in Surrey, Canada, on July 14, 2022.
- Mohammad Laal - ISI Operator (shot dead in Nepal on 19 Sep 2022): At the behest of the ISI, Lal Mohammad reportedly used to get fake Indian currency from Pakistan and Bangladesh to Nepal and then supply it to India from there. Reports added that he also assisted the ISI with logistics support and had links to Dawood Ibrahim's D-gang.
- Harvinder Singh Sandhu - 2021 RPG Attack on Punjab police HQ (died of drug overdose at a hospital in Lahore): Harvinder Singh Sandhu alias Rinda, who was listed A+ gangster, drugs smuggler and arms supplier, was operating from Pakistan for the last few years before he reportedly died due to alleged overdose on November 19, 2022, in a military hospital in Lahore.
- Bashir Ahmad Peer- HM Commander (Shot dead in Rawalpindi): Bashir Ahmad Peer alias Imtiyaz Alam, one of India's most wanted designated terrorists, was reportedly killed by unknown gunmen outside a shop in Rawalpindi on February 20, 2023. In October of last year, the government designated Peer as a terrorist due to his involvement in facilitating the infiltration of terrorists into Jammu and Kashmir and providing logistical support.
- Syed Khalid Raza - Al Badr Commander (killed in Karachi): On February 26, 2023, unidentified men reportedly killed Syed Khalid Raza outside his residence in Gulistan-e-Johar Block 7 area of Karachi, Pakistan. For almost 8 years in the 1990s, Raza was the commander of the Al-Badr terror group in Jammu and Kashmir.
- Ejaz Ahmad Ahangar - (ISJK, shot dead in Afghanistan): In February this year, Ejaz Ahmad Ahanger, a jihadist commander reportedly hailing from Kashmir and accused of leading an Islamic State cell responsible for multiple suicide attacks carried out by Indian nationals in Kabul and Jalalabad, was suspected to have been killed in southern Afghanistan.
- Syed Noor Shalobar - (Shot dead in Bara Khyber, Pakistan): In March 2023, unknown gunmen reportedly killed Shalobar, who was involved in steering terror in Kashmir, in the Bara area of Khyber Pakhtunkhwa province, bordering Afghanistan.
- Paramjit Singh Panjwar - KCF Chief (shot dead in Lahore on 6 May 2023): Panjwar, aged 63, was the leader of the Khalistan Commando Force-Panjwar group and was officially declared a terrorist by India in July 2020, in accordance with the provisions of the Unlawful Activities (Prevention) Act.
- Avtar Singh Khanda - (Died due to suspected poisoning in Birmingham, UK on 16 June 2023): Avtar Singh Khanda, who expressed support for Waris Punjab De leader Amritpal Singh and was one of the alleged "masterminds" in an attack on the Indian High Commission in London, was found dead at a hospital in Birmingham. He was the son of deceased Khalistan Liberation Force (KLF) leader Kulwant Singh. 
- Hardeep Singh Nijjar - (shot dead outside a gurdwara in British Columbia, Canada on 18 Jun 2023): Nijjar originally hailed from Bhar Singh Pura in the Phillaur subdivision of Jalandhar district and relocated to Canada in 1997, following the suppression of militancy in Punjab. He pursued a career as a plumber in Canada and eventually assumed the role of president at the Guru Nanak Sikh Gurdwara in Surrey. In September 2020, the National Investigation Agency (NIA) officially designated Hardeep Singh Nijjar as a terrorist under the Unlawful Activities (Prevention) Act of 1967. The NIA categorically identified Nijjar as an "absconder" and issued a public appeal for information on his whereabouts. Additionally, a cash reward of Rs 10 lakh was announced by the NIA in connection with his case.
- Sardar Hussain Arain - (Succumbed to shot wounds in Nawabshah, Sindh): Sardar Hussain of Jamaat-ud-Dawah was reportedly killed near his shop on August 1, 2023, and succumbed to injuries four days later in hospital. Sindhudesh Liberation Army had claimed responsibility for the assassination.
- Riyaz Ahmed aka Abu Qasim (LeT Commander shot dead inside Rawalkot mosque in PoK): Qasim, who was one of the main conspirators behind the Dhangri terror attack on January 1, was reportedly shot dead inside Al-Qudus mosque in Rawalkot on 8 September 2023.
- Sukhdool Singh aka Sukha Duneke, (Shot dead in Winnipeg, Canada on 20th Sept 2023): Sukhdool Singh aka Sukha Duneke of Davinder Bambiha gang from Moga district was reportedly killed in inter-gang rivalry. Duneke reportedly fled to Canada from India on forged documents in 2017 and had seven criminal cases registered against him.
- Ziaur Rehman (Hizubl Mujahideen leader shot dead in Karachi in September 2023): Ziaur Rehman, a prominent cleric associated with the Lashkar-e-Taiba, was gunned down while on his routine evening walk in Karachi's Gulistan-e-Jauhar area. 
- Mufti Qaiser Farooq (LeT founding member, shot dead in Sohrab Goth, Karachi, Pakistan on September 30)
Last Updated Oct 1, 2023, 2:49 PM IST