Protesters take part in group hug to defy lockdown in London
The group carried signs that stated, "My body, my choice" and "No more lockdown." They also participated in a group hug in defiance of social distancing guidelines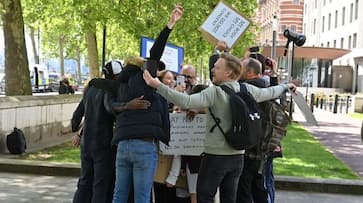 London: Protesters in London were seen taking part in a group hug outside Metropolitan Police's headquarters on Saturday in defiance of the coronavirus lockdown.
The crowd outside New Scotland Yard, close to the Houses of Parliament, were seen hugging each other as others held signs reading: "My body, my choice."
Another at the protest in central London on Saturday afternoon held a sign saying: "No more lockdown." Other poster slogans included anti-vaxxer messages and claims of 5G conspiracies. One also referenced Alex Jones, the US far-right radio show host.
Police told the protesters to go home before arresting a man who did not comply.
One man was arrested for failing to comply with the direction of a police constable and assault on police after around 20 activists protested restrictions.
Later on, in the protest, a number of activists came together to take part in a large hug.
Gatherings of any sort are banned under the UK's rules to slow the spread of coronavirus which were rolled out on March 23.
The Metropolitan Police said in a statement: "A small number of protesters gathered near New Scotland Yard earlier on Saturday.
Officers engaged with the protesters, encouraged them to go home and the group subsequently dispersed. One man arrested."
The UK has been on coronavirus lockdown for around six weeks, after Boris Johnson ordered Brits to stay at home except for essential work, food shopping, exercise and medical trips.
Last Updated May 3, 2020, 12:07 PM IST