NASA aims to build houses for humans on the moon by 2040 with 3D printing and lunar resources
NASA reportedly plans to build lunar houses using a 3D printer and lunar materials, aiming for human habitation on the moon by 2040.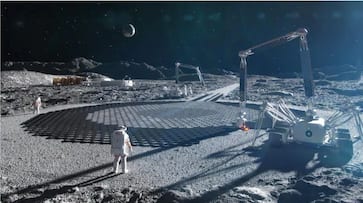 NASA is planning to construct houses on the moon, as per a report in the New York Times (NYT). This ambitious endeavour comes more than half a century after the Apollo 17 mission, where astronauts spent 75 hours on the lunar surface, with NASA now aiming for longer lunar stays. While some experts consider NASA's timeline to be ambitious, half a dozen scientists interviewed by the NYT believe that the agency's goal of lunar structures by 2040 is attainable. NASA intends to achieve this by sending a 3D printer to the moon to construct these lunar habitats, employing concrete made from lunar rock chips and mineral fragments found on the moon's cratered surface.
Niki Werkheiser, NASA's director of technology maturation, expressed the significance of this moment, stating, "We're at a pivotal moment, and in some ways it feels like a dream sequence. In other ways, it feels like it was inevitable that we would get here." NASA is actively leveraging the latest technology and forming partnerships with universities and private companies to make this lunar construction initiative a reality.
Werkheiser believes that the right people, the right technology, and a shared goal have converged at this juncture, fostering optimism about achieving their lunar construction objectives. She stated, "Everyone is ready to take this step together, so if we get our core capabilities developed, there's no reason it's not possible."
Fortune reports that the 3D printer for lunar construction is currently undergoing testing before its scheduled deployment to the moon in February 2024. However, prior to this endeavor, NASA has the task of successfully executing the Artemis 2 mission, set to launch next year, which follows its predecessor, Artemis 1, a mission that took off from the Kennedy Space Centre with only robots on board. Artemis 2 will have a human crew of four members.
Subsequently, in 2025 or 2026, the Artemis 3 mission will utilize SpaceX's Starship to land on the lunar South Pole, marking a historic return of humans to the moon's surface, according to the Fortune report.
Last Updated Oct 3, 2023, 12:33 PM IST