Man travelling to every country in the world without flying is stuck in Hong Kong due to coronavirus
Meet Torbjørn C. Pedersen (Thor) who is on a mission to travel to every country in the world. He has completed visiting 194 nations and 9 away from completing his target. However, he is stuck now in Hong Kong due to the coronavirus (COVID-19) pandemic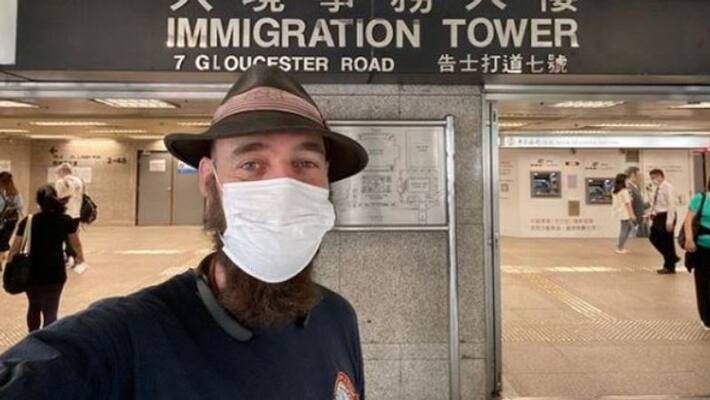 Bengaluru: A man who is on a mission to visit every country in the world that too without flying, has been stuck in Hong Kong due to the coronavirus (COVID-19) pandemic.
The 41-year-old Torbjørn C. Pedersen (Thor), born in Denmark, left his home on October 10, 2013. Since then he has travelled to 194 countries including India out of the 203 nations in his mission. He takes sea and land routes to visit countries. He travels on $20 per day budget and is a goodwill ambassador for the Danish Red Cross.
Also read: Dogs being trained to detect COVID-19
On his blog, he gives his introduction like this. "I am travelling to EVERY country in the world WITHOUT flying! - and this is where you can join me. Welcome my friend. Grab a chair and sit down. You have arrived to the main information hub regarding my adventures throughout the World.
"A land and sea journey to a total of 203 countries which is estimated to end in 2021. The adventure started on October 10th 2013 at 10:10am. 10/10 at 10:10am!".
Also read: 2 pet cats tested positive for coronavirus
As the coronavirus spread around the world, Thor is stuck in Hong Kong for over 80 days now. His next stop is Palau in western Pacific Ocean.
On his Instagram page, Thor wrote about being stuck in Hong Kong. "The virus outbreak dictates when we can leave and the Saga can continue. Isn't that extraordinary! Something so small that we can't even see it is keeping billions of people on lockdown."
"And yes, for me personally, when I can't get what I want, I somehow got the second best thing. I'm stuck in Hong Kong but I'm free to move about. A loving family is caring for me. I'm supported by thousands of people online. I'm in good health. I'm safe. My visa will soon expire but it seems that extensions come relatively easy these days. We will soon find out. While time is a valuable commodity which will never be returned...so far...all I'm really loosing here is time. Stay safe and sane wherever you are."
On him not taking flights, he said, "Flight would be the easy choice to visit many countries. But what is the fun in easy? This will be a surface journey by scheduled ground transportation; that is primarily trains, buses and boats of different sorts. I will not buy, borrow or rent a vehicle in order get from A to B and I definitely do not have a chauffeur. This way I will ensure a lot of time spent with locals and travelers alike – an amazing way to see the World!
"Also I will spend at least 24 hours in each country and I aim at not returning home before I have completed the journey."
Last Updated Apr 23, 2020, 5:34 PM IST