New Pentagon report has explosive details on China's LAC buildup
The Pentagon's annual report on China's military power reveals that China has not reduced its substantial military deployments along the Line of Actual Control (LAC) with India. China is actively enhancing its border infrastructure, nuclear arsenal, and long-range ballistic missile capabilities.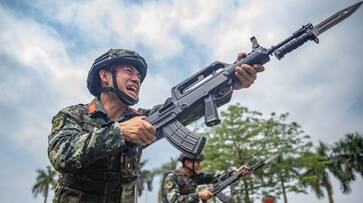 China has not reduced its significant military deployments along the Line of Actual Control (LAC) with India, the Pentagon has said. According to the latest report of the United States Department of Defence, China continues to invest in border infrastructure, including underground storage facilities, roads, dual-use villages, airfields, and helipads. 
China is actively modernizing its military across all domains of warfare, encompassing land, air, sea, nuclear, space, counter-space, electronic warfare, and cyberspace. This transformation aligns with President Xi Jinping's objective of establishing a "world-class" military by 2049 and aims to enhance China's capability to "fight and win wars" while countering third-party interventions in conflicts along its periphery and projecting power globally.
The Pentagon's report on the India-China border indicates that China's deployments along the 3,488-kilometer-long LAC are expected to continue through 2023. China has deployed border regiments, supported by divisions from Xinjiang and Tibet Military Districts, in the western sector (Ladakh) of the LAC. These forces are equipped with tanks, artillery, air defense missiles, and other weapon systems. Additionally, China has stationed light-to-medium combined-arms brigades (CABs) in the eastern (Sikkim, Arunachal Pradesh) and central (Uttarakhand, Himachal) sectors of the LAC.
China's military border infrastructure development includes underground storage facilities near Doklam, new roads across all LAC sectors, the construction of new villages in disputed areas in Bhutan, a second bridge over Pangong Lake, a dual-purpose airport in the central sector, and multiple helipads.
Despite these developments, recent talks between senior military commanders from India and China did not yield a breakthrough in the long-standing border standoff in eastern Ladakh. Both sides expressed a commitment to maintaining peace and tranquillity in the border areas while engaging in ongoing dialogue and negotiations. However, substantial challenges and tensions persist, including China's refusal to restore Indian patrolling rights in strategically significant areas.
The two nations have maintained substantial troop deployments, along with tanks, air defence systems, artillery, and other military equipment along the Line of Actual Control in eastern Ladakh. Notably, China has yet to grant Indian troops patrolling rights at critical locations, contributing to the ongoing tensions in the region.
Last Updated Oct 21, 2023, 11:22 AM IST