Israel-Palestine war: Netanyahu vows to 'crush' Hamas, says 'every member is a dead man'
Israeli Prime Minister Benjamin Netanyahu has pledged to eliminate Hamas, equating the Palestinian militant group to the Islamic State group. Likening the group to the ISIS and promising, he said: "We will crush them and destroy them as the world has destroyed Daesh."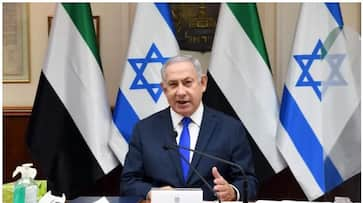 Israeli Prime Minister Benjamin Netanyahu on Wednesday vowed to keep fighting Hamas, saying that every member of the Palestinian militant group was "a dead man". The war, so far, has killed nearly 3,700 people on both the sides of Israel on Gaza. 
In his statement, Netanyahu for the first time clearly expressed Israel's intention to "destroy" Hamas following its surprise attack on Saturday.
"Hamas is Daesh (Islamic State group) and we will crush them and destroy them as the world has destroyed Daesh," he said in a brief televised statement, the first delivered jointly with his war cabinet.
"We saw boys and girls bound, who were shot in the head. Men and women burned alive. Young women who were raped and slaughtered. Soldiers who were beheaded," he also claimed.
Netanyahu made the remarks in a late-night televised address as Israeli planes pounded Gaza in response to the unprecedented attack.
US President Joe Biden termed the Hamas attack "the deadliest day for Jews since the Holocaust" and a campaign of "pure cruelty" on Wednesday. Meanwhile, the United States has already dispatched ammunition and military equipment to Israel and has sent a carrier strike group to the eastern Mediterranean as a deterrent.
Additionally, India has launched Operation Ajay to facilitate the return of its citizens from Israel. There are 18,000 Indians in the country.
"Special charter flights and other arrangements are being put in place. Fully committed to the safety and well-being of our nationals abroad," Foreign Minister S Jaishankar said in a post on X, formerly Twitter.
Last Updated Oct 12, 2023, 8:46 AM IST