Israel-Palestine War: 'Blame Hamas for what happens to civilians in Gaza'
In a television interview, Israeli Ambassador to the UK, Tzipi Hotovely, held Hamas responsible for any harm befalling Gaza civilians, asserting that it is Hamas' duty to care for their people while Israel's obligation is to protect its own citizens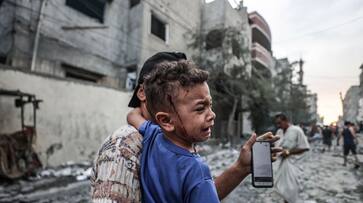 "It is Hamas that is to be blamed for anything that happens to civilians in Gaza. It is the duty of Hamas to take care of their people, our duty is to take care of our people," said Israeli Ambassador to the United Kingdom Tzipi Hotovely during a television interview.
She told Channel 4 news host Krishnan Guru-Murthy: "According to international law, Gaza is not occupied by Israel. Since 2005, Israel does not have effective control over the Gaza Strip, and, unfortunately, we saw the price of not having any effective control, as you have seen in the last 48 hours. The meaning of that is very simple: Gaza gets supplies from Egypt. Israel should not and must not supply electricity to the Gaza Strip. This is not part of our obligation. Do you think Britain should supply to Germany if you have a shared border? Does that make sense to you that you have an enemy and during a war, you need to supply something to the enemy?" 
In the wake of a surprise attack by Palestinian terrorists on Israel, the death toll has reached alarming numbers, with thousands losing their lives, and the count continues to rise significantly. Israel, in response, has launched a massive shelling campaign against Gaza.
Israel reported the successful recapture of Gaza border areas that were initially invaded by Hamas militants during the Saturday assault. The heavy bombardment of the Palestinian enclave from air, land, and sea is an ongoing military operation.
By Tuesday evening, the United Nations disclosed that the relentless air strikes had forced over 260,000 people to evacuate their homes in Gaza, an impoverished territory home to 2.3 million individuals, subjected to an Israeli-Egyptian blockade for over 15 years.
Simultaneously, the Israeli military announced significant progress in reclaiming the embattled south and the border surrounding Gaza, successfully displacing Hamas fighters from numerous towns and kibbutzim. However, late on Tuesday, in the southern Israeli city of Ashkelon, troops, supported by helicopters and drones, engaged in a firefight with several militants, resulting in the death of three fighters, as reported by the army.
When asked if Israel was starving the people of Gaza, the envoy said: "It is Hamas that needs to be blamed. The international community should say to Hamas, please you need to release all those kidnapped young people and elderly. You are holding over 100 people hostage. We have no obligation as per international law because we are not occupiers of Gaza."
Seemingly shaken by the barbarity unleashed by Hamas, the envoy said: "People in Israel are seeing sights they have never seen. I have seen horrible things, but nothing like this. Terrorists walked in and butchered family after family."
Last Updated Oct 11, 2023, 4:04 PM IST