Israel-Hamas War Updates: IDF intensifies airstrikes in Gaza, southern Lebanon
Leaders of the United States, Canada, France, Germany, Italy, and the United Kingdom reiterated their support for Israel's right to defend itself against terrorism and emphasized the importance of adhering to international humanitarian law to protect civilians.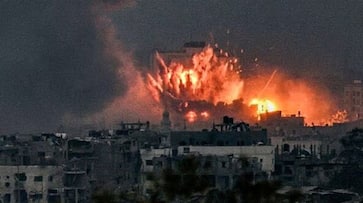 Israel intensified its airstrikes on Hamas infrastructure in Gaza, which is currently facing a "catastrophic" humanitarian crisis. Prime Minister Benjamin Netanyahu convened a meeting with his top generals and the war cabinet to address the situation. Palestinian Authority's Wafa news site claimed that Israeli military aircraft conducted airstrikes near Gaza City's Al-Shifa and Al-Quds hospitals. However, there is no confirmation or information available regarding casualties at this time. 
Additionally, the Israel Defense Forces (IDF) targeted several Hezbollah sites in southern Lebanon, including a 'military compound' and an observation post. The IDF also reported the destruction of armaments held by operatives while targeting 'a terror cell' along the border.
'Israel has the right to defend itself against terrorism'
The leaders of the United States, Canada, France, Germany, Italy, and the United Kingdom have issued a joint statement expressing their support for Israel's right to self-defence against Hamas while also urging Jerusalem to protect civilian lives.
The statement, which was released following a joint phone call, includes US President Joe Biden, Canadian Prime Minister Justin Trudeau, French President Emmanuel Macron, German Chancellor Olaf Scholz, Italian Prime Minister Giorgia Meloni, and UK Prime Minister Rishi Sunak.
In the joint statement, the leaders reiterated their support for Israel's right to defend itself against terrorism, emphasizing the importance of adhering to international humanitarian law, particularly in safeguarding civilian populations. They also welcomed the release of two hostages and called for the immediate release of all remaining hostages, committing to close coordination to support their nationals in the region, especially those seeking to leave Gaza.
This marks the second joint statement in support of Israel led by President Biden and Western leaders since the outbreak of the Israel-Hamas conflict that began following an attack by the terror group from Gaza on October 7.
The leaders further expressed their satisfaction with the announcement of the first humanitarian convoys reaching Palestinians in need in Gaza and pledged to continue coordinating with partners in the region to ensure sustained and safe access to essentials such as food, water, medical care, and other humanitarian aid.
Lastly, the leaders affirmed their commitment to maintaining close diplomatic coordination, including with key regional partners, to prevent the escalation of the conflict, uphold stability in the Middle East, and pursue a political solution and lasting peace.
Israel Survey Outcome: 'Eliminate Hamas' 
A poll conducted on behalf of the Israel Victory Project revealed that 70% of the Israeli public supports making the primary objective of Operation Swords of Iron to "eliminate Hamas." Among respondents who had previously voted for an Arab party in the last election, 54% selected this option.
An alternative response, with 13% of the participants' support, was that the primary goal should be to "completely disarm Hamas." Only 15% of those surveyed chose "the unconditional release of captives" as the operation's primary objective.
On October 7, Hamas crossed the border and launched a major attack on Israel, marked by a significant rocket barrage and numerous operatives breaching the high-security fence around the besieged enclave. This resulted in a tragic loss of life, with over 1,400 people killed, many of them through shootings, burnings, or mutilations. Israel responded with a sustained bombing campaign, resulting in the reported deaths of more than 4,600 Palestinians, primarily civilians, according to Gaza's health ministry.
Last Updated Oct 23, 2023, 8:43 AM IST