Israel-Hamas war: 230 empty beds and cribs in Jerusalem amplifies the gravity of hostage crisis (WATCH)
The article details the poignant 'Empty Beds' art installation in Jerusalem's Safra Square symbolising hope amidst the hostage crisis in Gaza, shedding light on the families' stories, grief, and resilience.
Around the City Hall buildings in Jerusalem's Safra Square, 230 vacant beds are arranged, including plenty of twin beds, cribs strung with mobiles, queen-size beds with night tables and stacks of books, and toddler beds scattered with puzzles, picture books, and pyjamas. The artwork, titled "Empty Beds," is a representation of the Israeli hostages held in Gaza since October 7, when terrorists from Hamas launched an attack on Israeli border towns and an open-air music festival, leaving almost 1,400 people dead, thousands injured, and hundreds abducted. There are now at least 245 confirmed hostages since the installation was put up.
With assistance from art students at the adjacent Bezalel Academy of Arts and Design, Bring Them Home Now, a nonprofit helping the families of hostage-takers and the missing, set up the bed installation. On Monday at 3 pm, after a moment of quiet, representatives of the missing and those in Hamas' captivity formed a queue around the beds and softly sung the national hymn, "Hatikva" — the hope.
A few minutes prior, a siren alerting everyone to the launch of missiles from Gaza against Jerusalem went out, and everyone in the square rushed to the bomb shelters nearby. Families gathered in clusters around the beds back in the square, discussing their daily routines with Jerusalem Mayor Moshe Lion, the press, and each other.
Nevia Heiman, 15, and her first cousin Lotem Mina, 14, both wore white Nir Oz T-shirts, which were designed for all of the kibbutz's surviving members and extended families. "We're in Eilat together as much as possible," Heiman told Times of Israel.
The two cousins, who are grieving and hoping for the release of those who were kidnapped, have been visiting their family in Eilat, where all of Nir Oz's surviving members were evacuated, on a daily basis. They currently reside in Haifa and Kiryat Warburg. As part of the family group, Heiman and Mina represented their eighty-four-year-old grandmother, Ditza Heiman, who has lived on Nir Oz since she was eighteen and prepares chicken soup for her extended family every Shabbat.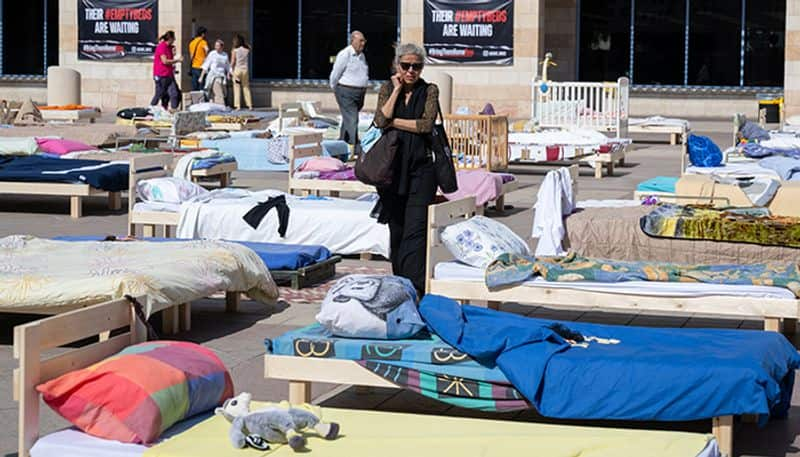 She met their grandfather there, got married, gave birth to four children, and later became a young widow when Lotem's mother was just six years old. She now has two daughters who live close by but not in Nir Oz, as well as twelve grandchildren and five great-grandchildren. On Shabbat afternoon, October 7, the feast of Simchat Torah, they were going to have a meal of hamin, a long-cooked stew of meat and beans, and chicken soup.
When Hamas struck on October 7 morning, Heiman was in communication with her children and grandkids. Witnesses claimed to have seen her being led by a terrorist to a car, whereupon she was most likely driven to Gaza.
Growing up on Nir Oz, Erez Adar said that the community was among the worst-hit during the October 7 massacre. Her mother, Yaffa Adar, 85, and nephew, Tamir Adar, 38, were also kidnapped. "One out of every four people is gone," said Adar. "There were hundreds of terrorists throughout the kibbutz, other kibbutzim had dozens and here there were hundreds."
Meanwhile, Gadi Moses, a prominent agronomist renowned for teaching farming techniques in sandy soil to farmers from developing nations, was captured alongside his partner, Efrat Katz, her visiting daughter Doron Katz Asher, and two young granddaughters, all taken separately. Days later, the family received the devastating news of Efrat's tragic death by gunfire en route to Gaza. Since then, Gadi has not communicated with the family. 
Margalit, Yair's mother, lives alone on the kibbutz. She was later shown entering Gaza on a mobility scooter in a Hamas video. His sister Moran resides on a kibbutz with her family, but the terrorists were unable to enter their house because their front door became jammed. She and the remaining Nir Oz evacuees are currently in Eilat.
Amir Elfasa, whose aunt Maya Goren was kidnapped, her husband Avner was killed, and their four children survived, described the current situation in Eilat as "like a tight hug."
"We try to hold them as much as possible," he said.
Last Updated Oct 31, 2023, 4:03 PM IST