Hong Kong protests: Trapped protesters finding a way out; US backs Hong Kong human rights bill
Trapped protesters are weighing their options as Hong Kong aims for normalcy, while the US has sent a clear message saying it backs the Hong Kong human rights bill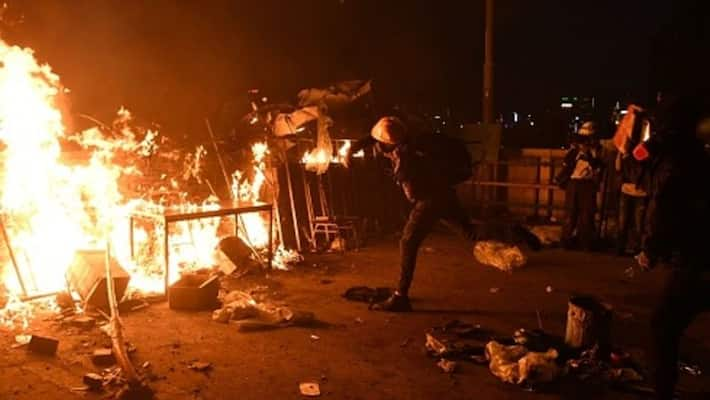 Hong Kong: The last band of anti-government protesters trapped inside a besieged Hong Kong university were weighing a narrowing range of options early on Wednesday as city officials allowed primary and secondary schools to reopen in an attempt to restore some kind of normalcy to the city.
Reuters witnesses said fewer than 100 protesters remained on the Hong Kong Polytechnic University (PolyU) campus and police outside appeared ready to simply wait them out. More than 1,000 people have been arrested since late Monday.
As the siege continued, children began returning to school after a six-day shutdown triggered by protesters' attempts to shut down the city by choking off rail and road links.
At PolyU, some protesters were nabbed in escape attempts that included trying to clamber down ropes onto waiting motorbikes.
Others resurfaced inside the campus after unsuccessfully trying to find a way out through the sewers during the night. It was unclear if any had managed to escape that way.
On the other side, the United States clearly stated that it would back human rights in Hong Kong. 
The Senate in the United States in a unanimous vote passed legislation on Tuesday aimed at protecting human rights in Hong Kong amid increasing violence in the self-governing Chinese territory, which has been wrecked by protests since June.
The Hong Kong Human Rights and Democracy Act now goes to the House of Representatives, which earlier approved its own version of the measure. The two chambers will have to reconcile the two bills into a single measure that can pass Congress and be sent to President Donald Trump for approval.
The Senate passed a second bill, also unanimously, that would ban the export of tear gas, pepper spray, rubber-coated bullets and other ammunition to Hong Kong's police force.
There was no immediate response from the White House, which has yet to say whether Trump would sign or veto the bill. A US official said recently that no decision had been made.
Whereas, China was quick to respond immediately and said that it condemns the passage of bill and the US should stop interfering in the affairs of Hong Kong and China.
Last Updated Nov 20, 2019, 5:28 PM IST