'Heroine of Israel': 25-year-old Inbal Lieberman hailed for saving Nir Am from Hamas in Gaza conflict
The article highlights the heroic actions of 25-year-old Inbal Lieberman, who defended the community of Nir Am from Hamas terrorists during an unprecedented attack near the Gaza Strip, amidst an ongoing conflict.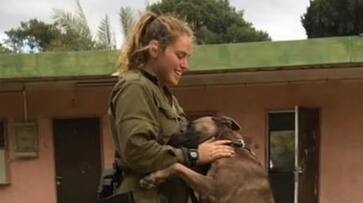 A 25-year-old Israeli woman, Inbal Lieberman, has been celebrated as a hero for her courageous actions in defending the community of Nir Am from an infiltration attempt by Hamas terrorists in the ongoing war. This event took place in the vicinity of the Gaza Strip, just a mile from the kibbutz (community). Inbal Lieberman, who had been a part of the region's security detail since December 2022, sprang into action upon hearing unusual explosions early on a Saturday when Hamas launched a deadly and unprecedented attack on Israel. Recognizing the distinct nature of the sounds compared to typical rocket attacks, she quickly opened the armory and distributed firearms among her 12-member security team.
Positioning her group strategically throughout the settlement, Inbal and her fellow kibbutzniks set up ambushes to counter the advancing enemy forces. In the course of a four-hour standoff, she personally eliminated five terrorists, while her team accounted for the lives of 20 more. Nir Am was transformed into an impregnable fortress, a stark contrast to neighboring kibbutzim that suffered greater losses.
One resident, Ilit Paz, praised the quick and decisive actions of Inbal, stating that her husband was part of the standby unit and lauded Inbal for preventing additional casualties by acting promptly.
"It was amazing, my husband was part of the standby unit that worked to prevent more casualties. They heard the shots and made contact on their own with other members of the standby unit and with Inbal — and they understood that they were told to be on standby. But Inbal made a decision not to wait and be jumped operationally. In fact, the fact that they did it early prevented dozens of casualties.
Several social media posts hailed Inbal Lieberman's heroism, suggesting that she deserves the prestigious Israel Prize. "The woman in the picture is Inbal Rabin-Lieberman. When it's all over, this woman will receive the Israel Prize. The story of her heroism is a story that will enter the Israeli myth for generations. Inbal is the reason that there is one kibbutz in the entire surrounding area that remains unscathed," noted one user.
Nir Am was not the only community that faced a threat; in Ein Habsor, a moshav near the Gaza Strip, a small group of local defenders managed to fend off a larger number of armed terrorists, an achievement partially attributed to vigilance and perhaps even a touch of luck.
Israel on Tuesday announced the completion of an enhanced security barrier around the Gaza Strip designed to prevent terrorists from sneaking into the country. This barrier spans 40 miles and incorporates radar systems, maritime sensors, and an underground sensor network to detect militant tunnels. The existing fencing was replaced with a 6.5-yard high 'smart fence' equipped with sensors and cameras, reinforcing security measures against infiltration attempts.
Israel has been engaged in a series of conflicts with Hamas over the years, the most recent one occurring in May. The conflict has had a considerable impact on the lives of people in the area, with both Israel and Egypt imposing a blockade on Gaza following Hamas's rise to power. This blockade has severely restricted the movement of Gaza's 2 million Palestinian residents and stifled the local economy. While Israel contends that these measures are essential to curbing Hamas's military capabilities, Palestinian and human rights groups view it as a form of collective punishment.
In 2018 and 2019, Hamas organized large-scale protests along the Gaza-Israel frontier, seeking to pressure Israel to ease the blockade. These protests resulted in numerous Palestinian casualties and one Israeli soldier being killed by a Palestinian sniper. Human rights organizations have accused Israel of failing to hold its forces accountable for the deaths and injuries, while Israel maintains that it conducted thorough investigations and held soldiers accountable when necessary.
Last Updated Oct 11, 2023, 3:59 PM IST