Former PM Nawaz Sharif returns to Pakistan after 4-year exile; Check out photos
Former Pakistan Prime Minister Nawaz Sharif returned to Pakistan on Saturday after 4 years of self-imposed exile. The Pakistan Muslim League-Nawaz (PML-N) supremo is returning home after he was granted a protective bail in the graft cases against him and the accountability court also decided to suspend his arrest warrant in the cases against Nawaz Sharif.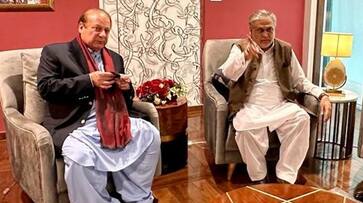 Pakistan Muslim League-Nawaz (PML-N) supremo and former prime minister Nawaz Sharif landed in Pakistan's Islamabad airport on Saturday, ending his four-year long political exile.
Numerous PML-N members were present to welcome their leader, who is anticipated to lead the party in the next elections and may even become the crisis-ridden country's prime minister for a record four times, when his so-called "Umeed-e-Pakistan" flight touched down at Islamabad airport on Saturday afternoon, according to Pakistan-based news outlet GeoTV.
Former finance minister Ishaq Dar was present with party cadres to welcome Nawaz.
"We are capable of handling the issues facing the nation. It is quite concerning that the situation in Pakistan is so unsettling," Nawaz Sharif said before boarding his flight from Dubai.
The former prime minister, who is a proclaimed offender in the Avenfield, Al-Azizia and Toshakhana cases, received protective bail in the first two cases and was granted relief in the third case.
"My leader Nawaz Sharif will be among you today, InshaAllah. He is coming back to unite this nation, not to divide it further. He is coming back to spread love among his people, not hatred. He is coming back to help you become a productive citizen, not ammunition for any party or group. He is coming back to put Pakistan back on track," wrote his younger brother and former Pakistan prime minister Shehbaz Sharif.
The return of Nawaz Sharif comes as Pakistan seems all set to head for the general elections in January 2024. His younger brother, Shehbaz Sharif was serving as the Prime Minister from 2022 till earlier this year after which the Parliament was dissolved and caretaker Prime Minister took command ahead of the general elections.
Nawaz Sharif was chosen prime minister thrice but was ousted in 2017 and handed a lifetime disqualification from politics after being convicted for not declaring a receivable salary.
Last Updated Oct 21, 2023, 3:10 PM IST