Fact Check: Viral photo of Israel PM sending son to serve for country amid war with Hamas is from 2014
A viral photograph claiming to be Israel PM Benjamin Netanyahu sending his youngest son to serve the country during the ongoing war with Hamas is a picture from December 2014 taken before Avner began his military service in IDF.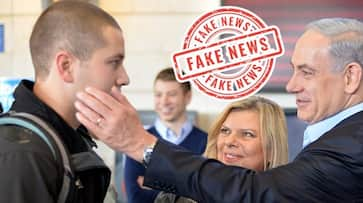 Amid the ongoing Israel-Hamas war, which started on Saturday following an unprovoked attack by the Palestinian terrorist group, a photograph of PM Benjamin Netanyahu sending his son, Avner Netanyahu, to serve the country has gone viral on X, formerly Twitter. Several X users lauded the Israeli PM son's patriotism, with some dubbing it as 'picture of the day'. However, the photograph that is being extensively shared on the social media platform is from 2014, when Netanyahu's youngest son began his military service in the Israel Defence Forces (IDF).
So far, there is no official confirmation on whether Avner has joined the forces to serve during the war and the photograph being shared claiming to be from the ongoing conflict is fake.
"Putting country first. PM Netanyahu's son's decision to serve in the military shows that he is willing to put his country before himself," wrote one user on X along with the 2014 photograph, while another added, "Benjamin Netanyahu blesses his son as he tends to join his national duty in the war against Hamas to protect his countrymen. We rarely find sons of political dynasties joining Indian Army in a call for national duty. Let's not forget similarly the Israel opposition leaders have also offered themselves to join the war movement."
The viral photograph, which has gained significant traction on X even as the Israel-Hamas war rages on, features Israel PM Benjamin Netanyahu, his wife Sara and son Avner at the Jerusalem's Ammunition Hill and was taken on December 1, 2014. The photograph was taken when Avner was given a heartfelt sendoff by his parents before starting his military service in the IDF. According to a 2014 reports by Times of Israel, Avner's older brother Yair, who at that time had already completed his military service, was also present to see him off.
"We are moved just like every mother and father who watch their son go off to the army," Netanyahu said in 2014. "We are full of pride and naturally worry. Everyone knows this, every home in Israel, and we are no different. I told Avner to take care of the state and to take care of himself," he had added.
Back then Netanyahu, who served in the elite Sayeret Matkal commando unit, had advised, "I wish success to all the soldiers who are being inducted today and to all the parents who are feeling the way we do — calm down, it will be okay."
In 2010, Avner garnered attention when he secured a remarkable third place in an international Bible quiz, a prestigious event held annually on Israel's Independence Day. While he was offered a position in the army's media corps due to his intellectual prowess, Avner made the conscious choice to serve in a combat role, driven by a strong sense of duty.
On the other hand, Avner's older brother, Yair, opted for a different path during his service in the IDF. He worked in the army's spokesperson's office, a role that usually didn't warrant a personal bodyguard detail. However, Yair's exceptional circumstances made him the only non-commissioned soldier in the entire military to receive this level of security, a privilege typically reserved for high-ranking officers.
Last Updated Oct 13, 2023, 10:20 AM IST