Decoding Pakistan's dangerous 'nuclear' gameplay
In a world where many want to reduce nuclear weapons, Pakistan's choice to grow its nuclear arsenal during a financial crisis has surprised and started discussions, says Girish Linganna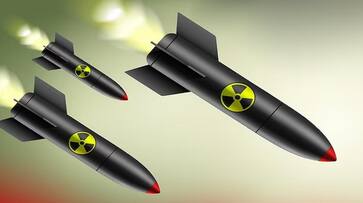 Just last week, a report from the Federation of American Scientists uncovered that Pakistan is steadily expanding its nuclear arsenal, acquiring more warheads, enhancing delivery systems, and growing its production of nuclear materials. Recent commercial satellite images of Pakistan's Army garrisons and Air Force bases suggest the existence of new launcher facilities associated with its nuclear capabilities. Presently, Pakistan possesses around 170 nuclear warheads, but projections indicate that this number could increase to 200 warheads by 2025.
A garrison refers to a military post or a fortified location where troops are stationed, often for the purpose of defence. In 1999, the US Defence Intelligence Agency estimated that Pakistan would possess 60 to 80 warheads by 2020. However, due to the development and deployment of various new weapons systems since then, Pakistan's stockpile has grown significantly beyond the initial projection.
The recent increase in nuclear activities coincides with a period of significant economic and political challenges in Pakistan. Consequently, this has led to questions about why the South Asian nation is expanding its nuclear arsenal during this period.
A media outlet interviewed a former defence attaché from Pakistan's Armed Forces to gain insight into the situation. The source requested anonymity due to security concerns.
According to the official, a key factor motivating Pakistan's nuclear ambitions is its strategic considerations. The region has experienced significant geopolitical tensions, mainly stemming from Pakistan's longstanding conflicts with India. Therefore, the nuclear weapons program acts as a deterrent against possible threats.
Pakistan considers nuclear deterrence vital for preserving regional stability and protecting its sovereignty. As per the official, Pakistan's concerns have been amplified by the ongoing territorial disputes, historical hostilities, and intermittent border clashes with India.
The former defence attaché clarified that, from Pakistan's standpoint, the development and deployment of nuclear weapons offer a crucial level of security and deterrence to offset India's significant military capabilities.
'Sentiments of Nationalism'
In addition to the perceived external threats, domestic political factors also influence Pakistan's nuclear decisions. Given the current political unrest within the nation, it's quite probable that leaders in Islamabad recognize that presenting themselves as staunch protectors of national security can enhance their political stature.
The official suggests that increasing the nuclear arsenal could be viewed as a means to resonate with nationalistic sentiments within the country, even in times of economic challenges.
Yet, given the country's current economic difficulties, some critics argue that investing resources in expanding the nuclear program at this moment redirects attention and essential funds away from economic and social development projects.
The official emphasized that Pakistan has encountered ongoing problems such as high debt, rising prices, joblessness, and financial shortfalls. Nevertheless, military leaders assert that the nuclear program is crucial for national security and cannot be compromised, irrespective of economic challenges.
'Global Consequences'
Pakistan's pursuit of nuclear capabilities carries worldwide significance, sparking worries about the chance of a weapons competition in South Asia and the risk of nuclear weapons ending up in unauthorized possession. Nonetheless, regarding this matter, the official emphasized that Pakistan's nuclear program is rigorously safeguarded, with numerous security measures in place to ensure its protection.
World powers, including neighbouring India, have recently voiced worries regarding the security of Pakistan's nuclear arsenal. They emphasize that ensuring the safety and protection of these weapons is a collective duty, particularly in light of the presence of extremist elements within the nation.
However, Pakistan's choice to grow its nuclear weapons stockpile despite economic challenges is a multifaceted matter influenced by its strategic considerations, perceived external threats, and domestic political factors.
The official pointed out that this situation underscores the intricate balancing act countries often must perform when weighing security interests against economic hardships. He further emphasized that moving ahead, diplomatic endeavours, particularly between Pakistan and India, hold paramount significance in addressing the fundamental regional tensions.
The defence attaché concluded by emphasizing the importance of averting further escalation and fostering stability in South Asia through dialogue and peaceful negotiations.
Last Updated Oct 1, 2023, 11:59 AM IST