Chinese scientists create first-of-its-kind chimera monkey with green eyes, glowing fingertips
The article discusses the groundbreaking creation of a chimera monkey in China through an experimental process involving two sets of DNA, highlighting its potential impact on medical research and species conservation, while also addressing ethical considerations.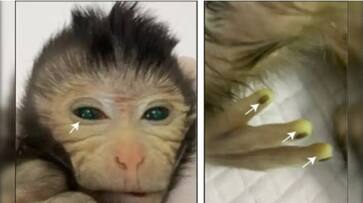 Scientists in China have successfully created a chimera monkey with unique features such as green eyes and glowing fingertips. This experimental primate, born from the stem cells of two genetically distinct fertilized eggs of the same monkey species, represents a groundbreaking achievement. The long-tailed macaque, born as a result of this unprecedented experiment, lived for 10 days before being euthanized.
The creation of this chimeric monkey involves the combination of two sets of DNA, paving the way for potential advancements in medical research and species conservation. While the research is still in its early stages, the scientists involved believe that this approach could be valuable for modeling neurodegenerative diseases.
Published in the journal Cell, the study details the process of creating the world's first live birth of a chimeric monkey with stem cells. The researchers, led by Miguel Esteban, a principal investigator at the Guangzhou Institute of Biomedicine and Health, expressed optimism about the potential applications of this research.
The live birth of this chimeric monkey demonstrated a significant contribution of stem cells to the brain, indicating its potential relevance for studying and understanding neurodegenerative diseases. Moreover, the researchers suggest that chimeric monkeys could play a crucial role in species conservation, especially if the technique could be applied between two nonhuman primate species, one of which is endangered.
The animal exhibited varying ratios of cells derived from the donated stem cells, ranging from 21 percent to 92 percent. Notably, the highest percentage was observed in brain tissues. Chimeric mice have been created since the 1960s and have been widely utilized in biomedical research.
While this experiment raises ethical considerations and involves complex scientific processes, it opens new avenues for understanding the possibilities and challenges associated with creating chimeric organisms, with potential implications for both medical research and species conservation.
Last Updated Nov 14, 2023, 8:20 PM IST