Caught on tape: Alleged video of Taliban official having homosexual relationship with bodyguard sparks outrage
Senior Taliban official and head of Da Afghanistan Breshna Sherkat (DABS), Mullah Ahmed Akhund, has been allegedly captured on camera having a homosexual relationship with his 21-year-old bodyguard in Kabul.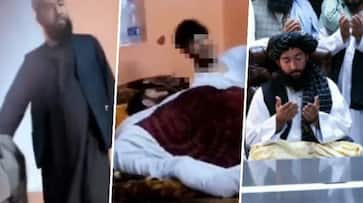 A startling video has emerged on social media, allegedly capturing Mullah Ahmed Akhund, a senior Taliban member and the head of the Da Afghanistan Breshna Sherkat (DABS) in Kabul, having a homosexual relationship with his bodyguard. In this silent footage, the viewer is transported to a simple room featuring a neatly prepared bed. What sets this video apart is the discreetly hidden camera tucked away in the corner of the room, providing an unfiltered glimpse into an unexpected scenario.
The video in question allegedly shows Mullah Ahmed Akhund sleeping in the company of a younger man who serves as his bodyguard. Reports from Afghanistan International have identified the young man as a 21-year-old who previously worked alongside the Taliban leader in the Breshna Sherkat. Notably, he was also seen in the company of Mullah Fazil, the Deputy Minister of Defense for this group.
The emergence of this video has sparked significant interest and concern, raising questions about the relationships and behaviours within the Taliban leadership. The circumstances surrounding this video and its implications are expected to be subjects of scrutiny and discussion in the coming days.
"Majority of Taliban have homosexual relationships from their teenage. Abuse of boys is common in Afghan society. Baccha baazi is a common. It's a rotten society. Madrassas have boys who are abused as young as 9. Boys without beard is what they like," said one user on X (formerly known as Twitter).
"Taliban culture. They hang you if you're gay but the bosses have sex with boys. Disgust," said another user, while a third noted, "These are the same people who say Homosexuality is Haram in Islam and punishable by DEATH."
Meanwhile, reports suggest that despite the alleged video, which has now gone viral on social media, the Taliban leadership have allowed Mullah Ahmad Akhund to continue working and haven't handed over any punishment.
A January 2022 report released by Human Rights Watch and Out Right Action International noted that LGBT Afghans and people who do not conform to rigid gender norms in Afghanistan have faced an increasingly desperate situation and grave threats to their safety and lives under the Taliban.
The 43-page document titled "'Even If You Go to the Skies, We'll Find You': LGBT People in Afghanistan After the Taliban Takeover" is derived from 60 interviews conducted with LGBT individuals in Afghanistan.
Numerous interviewees recounted distressing experiences of being targeted or threatened by Taliban members due to their sexual orientation or gender identity. Additionally, some shared accounts of mistreatment at the hands of family members, neighbors, or romantic partners who either now support the Taliban or believed that taking action against LGBT individuals close to them was necessary for their own safety.
As a result, many were forced to flee their homes to escape attacks by Taliban members or their supporters. Others described the heart-wrenching loss of the lives they had painstakingly built over the years, leaving them vulnerable to potential targeting at any moment because of their sexual orientation or gender identity.
Even prior to the Taliban's complete takeover of Afghanistan on August 15, 2021, the country posed significant dangers for LGBT individuals. In 2018, during the administration of then-President Ashraf Ghani, a law was enacted that specifically criminalized same-sex sexual relationships. Furthermore, the preceding penal code contained ambiguous language that was commonly construed as deeming same-sex relations as a criminal act.
Last Updated Aug 22, 2023, 3:07 PM IST