Bizarre bird-like dinosaur fossil, challenging avian evolution theories, discovered in China
A surprising discovery of a pheasant-sized bird-like dinosaur fossil in China challenges traditional understanding of avian evolution, shedding light on an enigmatic chapter in the history of dinosaurs.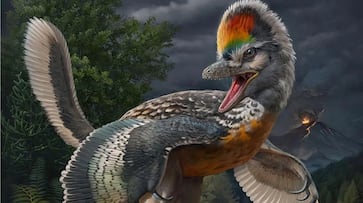 A surprising discovery in China has astonished experts—an ancient bird-like dinosaur fossil that challenges conventional wisdom. This pheasant-sized dinosaur, characterised by long lower legs, once roamed southeast China's Fujian province approximately 148-150 million years ago. The intriguing find has been dubbed "Fuijianvenator prodigiosus," meaning "bizarre hunter from Fuijian" in Latin. Unearthed in 2022, this creature is believed to be one of the earliest bird-like dinosaurs from the Jurassic period, as reported in Nature magazine.
Mark Loewen, a paleontologist from the University of Utah, Salt Lake City, remarked, "This is really a weird animal within the group of birds," highlighting the unusual nature of the discovery. Notably, he wasn't directly involved in the excavation.
The unique aspect of this dinosaur lies in its potential inability to fly and its deviation from the established bird-evolution narrative, according to the research findings.
While most dinosaurs had disappeared around 66 million years ago, the Velociraptor and Tyrannosaurus rex eventually evolved into the birds we know today. Archaeopteryx, a feathered dinosaur from approximately 150 million years ago, is often considered the earliest known bird by many paleontologists.
Lead author Ming Wang, cited by CNN, revealed that this fossil weighs around 1.4 pounds (641 grams) and holds significant importance as it bridges a gap in the fossil record, shedding light on the origins of birds. Ming, a professor at the Institute of Vertebrate Paleontology and Paleoanthropology in Beijing, remarked, "Fujianvenator, given its unique skeletal morphologies, sheds new light about the morphological evolution... in the earliest evolutionary stage of birds."
Interestingly, the fossil of this creature was discovered alongside those of other aquatic and semi-aquatic animals, including turtles, providing a broader perspective on the ancient ecosystem.
Last Updated Sep 8, 2023, 5:56 PM IST