The immediate aftermath of the bomb attack that ripped through a bus carrying evacuees from Syria
Videographer Abd Alkader Habak who was at the scene helped in the rescue operations
Syria has been constantly in the news because of the war-like situation the country is going through. First there was the chemical attack, then there was the US dropping a non-nuclear bomb, constant fighting and mortar shelling between the forces  and much more. Frightened villagers and residents have been leaving the city in droves. However, not even evacuation is possible in the war-torn city.
On April 15, there was a bomb blast, which hit a convoy of buses, according to the Syrian Observatory for Human Rights. Over 126 people have been killed in that attack. The blast struck a convoy of buses carrying the evacuees. Over 68 of those death were children.
A picture taken on April 16, 2017, shows the damage inside a bus a day after a suicide car bombing attack in Rashidin, west of Aleppo, targeted busses carrying Syrians evacuated from two besieged government-held towns of Fuaa and Kafraya. OMAR HAJ KADOUR/AFP/Getty Images
Why this attack gained even more prominence was due to the picture of videographer Abd Alkader Habak who was at the scene. He was working in Aleppo and he was filming the aftermath of the blast when suddenly he was caught up in the blast.
He was lucky to escape, he was slightly shaken by the impact but once he dusted himself off, he noticed the carnage around him. Immediately he started to help as many injured he could find, but sadly, the impact had been large and many lives, especially that of children had been lost by then.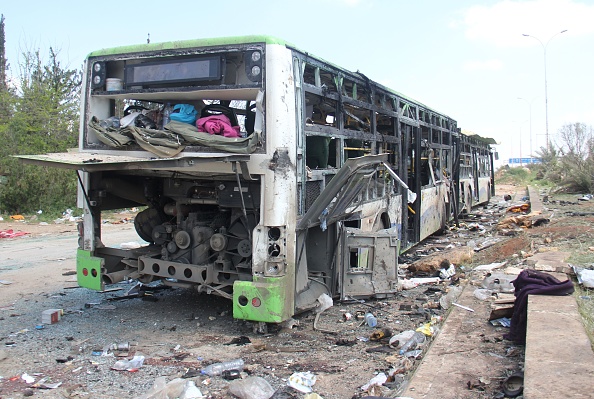 While he was rescuing people, another photographer managed to click his picture in which he is seen holding a child in his arms trying to get the child to the ambulance. The cameraman's actions were being followed and another image soon emerged of an exhausted and overcome by emotion Habbak, falling to his knees and crying; crying at the devastation and death around him. Beside him lay the dead body of a child.  
Watch: Channel 4 News has captured the incident and it was put up Abd Alkader Habbak on his Twitter timeline.
Warning: The content is extremely disturbing and viewer's discretion is advised