Six lions struggle for a deer in front of zoo visitors; watch video
A video of six lions battling for a deer in front of safari visitors has emerged on social media.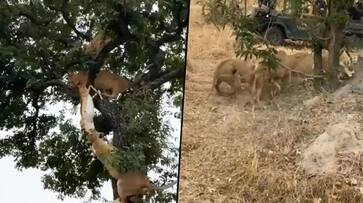 A horrifying video of six lions battling for a deer has gone viral. Indian Forest Services officer Saket Badola shared this video on Twitter with the caption, "The way of the Wild."
In The 45-second clip, two lions struggle for a deer on a tree. Also, a third lion is sitting on the top of the tree. Moments later, three more lions climb the tree, and all fought for the dead animal. One lion manages to snatch the deer from the bottom and fall on the ground, where other wild cats dive to the ground and continue the food fight.
As all of them fight on the ground, safari visitors can witness the scene from the background.
The zoo visitors were left frightened, watching the unexpected scene unfold in front of them. The location of the incident is not known. However, the video went viral on all the social media platforms. While several netizens were shocked, and some found it amusing. Watch the video.
Last Updated Aug 20, 2021, 2:16 PM IST