Had Puneeth Rajkumar reached hospital 10 mins before, there was high chance of his survival: Dr CN Manjunath
As Kannada superstar Puneeth Rajkumar was laid to rest with full state honours on Sunday, Dr CN Manjunath, Director of Jayadeva opined that it could be a case of a genetic condition in the family and at the same time said that, Puneeth was late about 10 minutes from reaching the hospital. He expressed that had the actor reached early, he could have survived.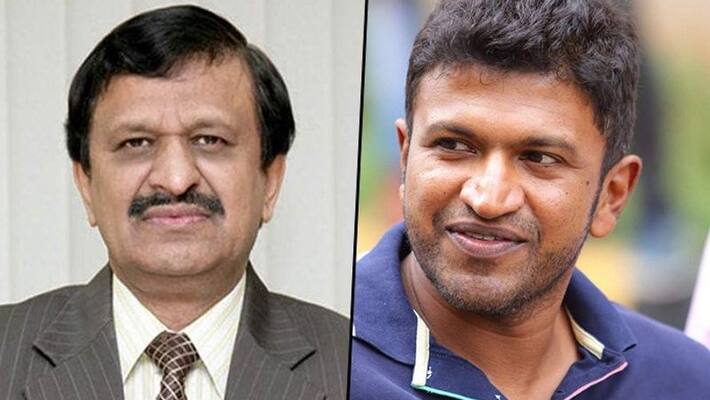 Renowned cardiologist Dr CN Manjunath has made a startling revelation that Puneeth Rajkumar's two elder brothers who also suffered from heart attacks in the past indicate a genetic condition among the family members and recommended tests to avoid complications.
In his exclusive interview with Asianet Newsable, Dr Manjunath said that had the actor reached the hospital 10 or 15 minutes earlier, he would have had a high chance of survival.
As per the doctor, the actor who was fit and had no sign of discomfort was hit by Ventricular Fibrillation which resulted in an electric shock to the heart. In the interview below, the expert talks about the signs to look for and the tests to undergo to avoid a severe cardiac arrest.
What do you have to say about young actor Puneeth's sudden demise due to a heart attack despite him being fit and health-conscious?
In our study Premature Coronary Artery Disease in other words 'heart attack among young', we treated 2,300 young patients from 2017. All were below the age of 40 years. When we looked at the risk factors, nearly 55 per cent were smokers, about 8 to 20 were diabetic and hypertension. 10 per cent had abnormal cholesterol levels. Nearly 15 per cent had a strong family history of a heart attack. So family history or genetic background is a risk factor and another 30 per cent did not have conventional risk factors at all.
30 per cent in India who are victims of heart attack are below 40 years of age. Some potential triggers are insulin resistance, central obesity near the abdomen and apart from these two, fatty liver is also a risk factor. In some cases, the high intensity of the workout can also precipitate the rupture of arteries. In some cases, a high protein diet also can cause a heart attack as it can lead to ulcers inside arteries that can also cause a heart attack.
In some cases, even before a few minutes of a heart attack, without any warning just like a bolt from the blue, they may suffer a heart attack because of ruptures of arteries due to ulcers.
The treatment has to be as early as possible. In some patients, it is very unfortunate as there will be electrical instability and within a few minutes of the onset of heart attack, the heart stops due to Ventricular fibrillation in which the heart just shivers and wobbles but will not have any contraction and there will be no blood flow. This is called electrical instability. Unfortunately, it does not give any time for them to reach the hospital.
What could be Puneeth Rajkumar's case?
In Puneeth's case, he suffered a heart attack and died because of Ventricular Fibrillation (VF). This condition ultimately resulted in cardiac arrest. Heart attack and cardiac arrest are two different things and heart attack is one of the reasons for cardiac arrest. Ultimately life goes by cardiac arrest only. Even if the person is suffering from cancer, brain, or kidney disease, ultimately the life goes through cardiac arrest. In his (Puneeth) case, it is VF.
If he (Puneeth) had developed this after reaching, he would have survived. They (hospital) would have given DC shock. We have equipment called a defibrillator which will be delivered to the chest wall. Heart rhythm would have been restored and subsequently whatever the procedure needs to be done like angiogram or angioplasty would have been performed and medication would have been given.
Walking and physical activity is extremely important but before taking any gym program, there has to be a thorough cardiac evaluation by a cardiologist. They should undergo ECG. In all public places like railway stations, bus stands, the multi-storied flats where thousands of families live, or even gym, there has to be an emergency room and revival facility should be there including this defibrillator.
In abroad, the public are trained how to do chest massage in case of cardiac arrest. Someone doing a simple thing like compression on the chest, the heart rate reaches 100 times per minute, and the patients would have been revived and sent to the hospital. In some cases, the heart attack victims die as the attack does allow them to reach the hospital.
Raghavendra Rajkumar had heart surgeries on a pacemaker, Shivrajkumar suffered a mild heart attack; can this be linked to a genetic disorder among the Rajkumar brothers?
Yes, absolutely! As I mentioned earlier, genetics plays an important role. 15 per cent of young heart attack patients have strong genetic or family history. Some in the family who have died or suffered a heart attack, such families are more vulnerable to a heart attack.
Would you recommend such families for thorough and periodical check-ups?
Yes, every year one has to undergo a periodic check-up if he or she has a family history of heart attack among their members or has multiple risk factors. After the age of 35, at least one CT scan can be done just to know the status if they have any issues or if there is any deposit of calcium. Calcium is an indicator of blockages over some time. CT angiogram should not be done every year as it involves radiation.
Had Puneeth reached the hospital a bit early, would he have survived?
Among 100 patients with heart attack, 90 per cent will reach the hospital and survive but 10 per cent may die after developing a heart attack within a few minutes and unfortunately, Puneeth also falls under this category. I think in his case, 10 minutes separated him from reaching the hospital and dying. He had a high chance of survival had he reached on time.
What are the signs of heart attack and how can heart attack be detected?
People with comorbid conditions and others who notice chest pain, show tiredness while walking and climbing, should undergo tests. After reaching 30 years, one treadmill, ECG, and some basic tests like blood cholesterol should be done.
 
Last Updated Nov 1, 2021, 8:15 PM IST