Terrorism to Indo-Pacific cooperation: Here's what PM Modi and Emmanuel Macron discussed
According to a statement from Macron's office, the two presidents spoke over the phone on Tuesday and addressed subjects such as the Afghan conflict.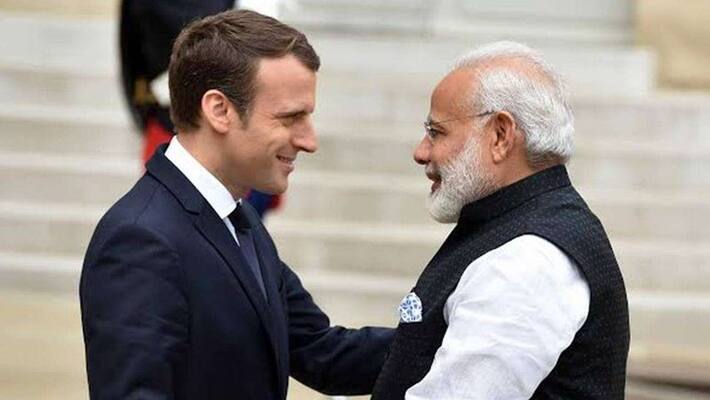 French President Emmanuel Macron and Prime Minister Narendra Modi on Tuesday discussed cooperation in the Indo-Pacific area, as France struggles with the impact from Australia's rejection of a $40 billion French submarine purchase. The two leaders talked on regional problems, particularly recent events in Afghanistan. Amid the Afghanistan conflict, they expressed their worries about the rise of terrorism, drugs, illegal weapons, and people trafficking, as well as the need to protect human rights, women's rights, and minorities' rights.
They discussed the growing bilateral cooperation in the Indo-Pacific area, as well as the critical role that the India-France partnership plays in supporting regional stability and security. The leaders decided to keep close and frequent talks going in the spirit of the India-France Strategic Partnership, which both nations value highly.
In other news, France withdrew its ambassadors from the United States and Australia last week, after Australia's cancellation of its earlier nuclear submarine contract with France.
Also Read | France slams Australia's surprising nuclear deal, calls it 'stab in the back'
Australia announced last week that it would cancel an earlier 2016 agreement with France's Naval Group to build a fleet of conventional submarines in favour of building at least eight nuclear-powered submarines with US and British technology, following the formation of a trilateral security partnership. It was dubbed a "stab in the back" in France. China, on its part, has condemned a new Indo-Pacific defence alliance - AUKUS - formed by the United States, the United Kingdom, and Australia, warning of an increased arms race in the area.
Also Read | Australia signs deal to get nuke submarines with US, UK help; France reacts
President Joe Biden, Australian Prime Minister Scott Morrison, and his British counterpart Boris Johnson announced the partnership in a video meeting, which will raise eyebrows in Beijing. France has reacted strongly after negotiating a multibillion-dollar sale of conventional submarines to Australia. Morrison stated that the globe is growing increasingly complicated, particularly in the Indo-Pacific area, impacting everyone. The Indo-future Pacific's will influence all of our futures. Meanwhile, Johnson stated that they will work "hand in hand to maintain Indo-Pacific peace and security." According to Biden and the other leaders, the submarines will not be nuclear-armed and will solely be fueled by nuclear reactors.
Last Updated Sep 21, 2021, 6:21 PM IST