WhatsApp update: Messaging app introduces multiple accounts feature; Know how to enable it
WhatsApp update: The second account must be tied to secondary phone number. Notification settings can be adjusted for each account separately. The feature is currently available to Android users.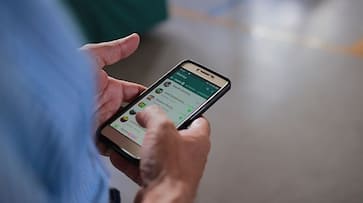 Even while users have the option to use the well-known messaging app on several devices, WhatsApp restricts its users to a single active account on a single device. Customers must log out of their primary account on the same device in order to access a secondary account linked to a different phone number.
That is about to change. The Meta owned instant messenger announced Thursday that it will allow users to have two active WhatsApp accounts logged in at the same time on Android devices. WhatsApp users can switch between the two accounts seamlessly, without having to log out.
WhatsApp stated in a blog post that users would require a phone that supports multi-SIM or eSIM, as well as a second SIM card and phone number, in order to set up two accounts. Once in the WhatsApp settings, users can select "Add account" by tapping the arrow next to their name. They can then create a second WhatsApp account on the app using their alternative phone number.
It's also important to note that consumers have individual account-level control over alerts and privacy. You might, for instance, enable alerts on your business account while muting them on your personal one, or the other way around. Naturally, end-to-end encryption will also be used for all messages sent and received on both accounts.
Users would no longer need to carry two phones in order to seamlessly move between their personal and professional accounts on WhatsApp thanks to the multi-account capability. WhatsApp also advised users not to download fake apps and to stick to the legitimate WhatsApp app available on the Google Play Store on its site. The iOS feature's confirmation by the corporation is still pending.
WhatsApp has been quite active this week, releasing several new features and upgrades for its customers. The app is reportedly testing a "view once" mode setting for voice communications, similar to the one that is already there for sending images and videos.
Earlier this week, the app also rolled out support for passkeys on Android. The feature lets Android users log back into their WhatsApp account securely using biometric authentication on their phones or their device PIN.
 
Last Updated Oct 23, 2023, 3:47 PM IST