Teen's Google Maps discovery hints at ancient Mayan site
Gadoury, aged 15, developed a passion for exploring the Mayan history inspired by the end of Mayan calendar and the Doom's Day theory, which predicted the end of the world in 2012.  
Gadoury's curiosity drove him to investigate the Mayan life and culture, besides the correlation between their astrological beliefs and the discrete placement of Mayan cities in Honduras, Guatemala, Mexico, and El Salvador.
The Mayan belief suggested that the placement of stars directly affected the life on Earth as it could influence the farming cycles. Consequently, the Mayans settlements were built directly in correlation with the location of the star signs as 117 Mayan cities represented the corresponding constellation of stars in the galaxy.
With 22 constellations already marked on the Mayan map, the teenager's expedition into the Mayan world reportedly leads to the discovery of the twenty-third constellation with merely three stars.
Quite interestingly, Gadoury's research using Google Maps and satellite images from the Canadian Space Agency lead to the finding of the 118th city corresponding to the newly discovered constellation.
After tracking the appropriate co-ordinates for the new Mayan city on the map, Armand LaRocque, a remote sensing specialist at the University of New Brunswick in Fredericton (who works with Gadoury) has suggested it is a Mayan pyramid surrounded by thirty smaller structures.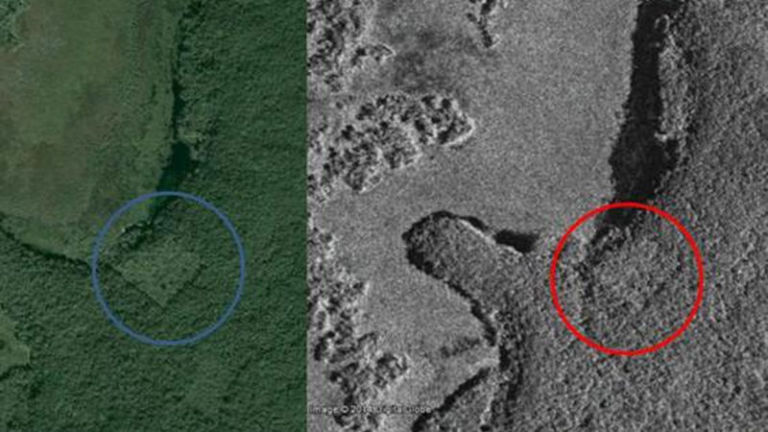 The only hitch is that the discovery does not have the backing of a physical expedition while all existing evidence lies in the lame satellite imagery.
However, Gadoury's discovery has found some hope as funds are being raised to get him entry into Brazil's Expo-Sciences International, wherein he could get the support and the approval for his personal visit to The Fire Mouth.
Although Gadoury's proposed expedition to the purported Mayan city is getting some traction, Anthropologist Thomas Garrison of USC Dornsife sounds sceptical about the discovery saying that it could just be a corn field that's gone fallow for 10 to 15 years.
Here is what Garrison explained to Gizmodo refuting the claims of the discovery:   
I applaud the young kid's effort and it's exciting to see such interest in the ancient Maya and remote sensing technology in such a young person. However, ground-truthing is the key to remote sensing research. You have to be able to confirm what you are identifying in a satellite image or other type of scene. In this case, the rectilinear nature of the feature and the secondary vegetation growing back within it are clear signs of a relic milpa. I'd guess its been fallow for 10-15 years. This is obvious to anyone that has spent any time at all in the Maya lowlands. I hope that this young scholar will consider his pursuits at the university level so that his next discovery (and there are plenty to be made) will be a meaningful one.
To further strengthen his argument, Garrison has pointed out a similar structure in a recent satellite image of an abandoned field near his workplace in Guatemala:
Last Updated Mar 31, 2018, 6:41 PM IST