Qualcomm Snapdragon 8 Gen 3 SoC with gaming support, AI features launched; Check what's new
The Snapdragon 8 Gen 3 SoC promises 240 fps gaming on supported displays. The chip claims to have world's fastest stable diffusion image generation. The 5G-ready chip support Wi-Fi 7 and Bluetooth 5.4.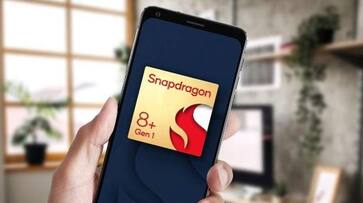 At the Snapdragon Summit, Qualcomm unveiled the Snapdragon 8 Gen 3, its most recent flagship mobile platform. The Snapdragon 8 Gen 2 SoC's successor is touted as the first mobile platform to concentrate on generative AI and offers a slew of new features. Popular large language models (LLMs) and other multi-modal generative AI models are supported by the SoC's AI engine. Performance gains of 40% and a 98 percent rate of speed are promised by the Qualcomm Hexagon NPU.
Additionally, it offers 240 frames per second gameplay with ray tracing and global lighting on compatible monitors. It is stated that the Qualcomm Adreno GPU outperforms the Snapdragon 8 Gen 2 SoC's GPU by 25% in terms of speed and efficiency. The dual Bluetooth and Wi-Fi 7 capable chip is ready for 5G.
The Qualcomm Snapdragon 8 Gen 3 SoC is equipped with the Qualcomm AI engine, which has been enhanced to a supposedly 40 percent more efficient and 98 percent quicker hexagon process. With its generative AI capabilities, the chip holds the potential to create images with the quickest stable dissemination in history. Based on 4nm processing technology, the Qualcomm Kryo CPU in the chip can produce up to 3.3 GHz at speeds that are 20% more efficient and 30% quicker. The CPU has two Efficiency cores that can run at up to 2.3 GHz and five Performance cores that can run at up to 3.2 GHz.
Additionally, the processor offers top-tier gaming performance with global lighting and hardware-accelerated ray tracing. On panels that are compatible, the processor claims to deliver gaming at 240 frames per second. The Qualcomm Adreno GPU is said to be 25% quicker and more efficient.
Numerous AI-powered new camera functions are also promised by the new processor. The chip has an Arcsoft Video Object Eraser that eliminates undesirable objects and persons from videos. With the help of Samsung's 200-megapixel Snapdragon-optimized image sensor, it also gains additional zoom features, including 2X and 4X magnification, multiple video capture, and object tracking. In addition to having Photo Expansion, which uses AI to enlarge photographs, it supports Dolby HDR.
Similar to the Snapdragon 8 Gen 2, the Snapdragon 8 Gen 3's Qualcomm FastConnect 7800 System supports Wi-Fi 7 (802.11be, 802.11ax, 802.11ac, 802.11a/b/g/n), Bluetooth 5.4, and other networks. The Snapdragon X75 5G Modem-RF System is a feature of the most recent processor. It is stated that the mobile platform has the first 5G modem in the world with an integrated AI tensor hardware accelerator.
Global OEMs and smartphone companies, such as ASUS, Honour, iQOO, MEIZU, NIO, Nubia, OnePlus, OPPO, realme, Redmi, RedMagic, Sony, Vivo, Xiaomi, and ZTE, will use the processor for their flagship handsets.
Last Updated Oct 26, 2023, 11:44 AM IST