Israel-Hamas war: Google CEO Sundar Pichai, Microsoft's Satya Nadella send message to Israeli employees
Israel-Hamas war: Google has over 2,000 employees working in Israel and the company is equally invested in preventing cyber mishaps in the region. Microsoft's Chief Executive Officer Satya Nadella said he is "heartbroken by the horrific terrorist attacks on Israel" where the company has nearly 3,000 employees.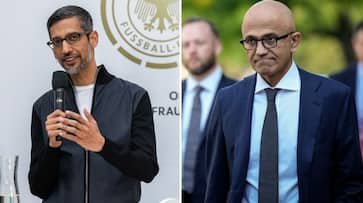 Millions of people are being impacted by the ongoing conflict between Israel and Palestine, and among those impacted in the region are Google and Microsoft employees who operate in Israel under the constant threat of bombs and missiles. 
Google has two locations in Israel, and this week, the company's CEO, Sundar Pichai, contacted them internally in an email that was cited this week by 9to5Google. The firm has emphasised the effort to stop false information from spreading on websites like YouTube and that it works around the clock to ensure that nasty content does not find its way into the platform's films.
Pichai further assured that all 2,000 employees at both sites in Israel are safe and well, including those heading to the region. Google also stated that certain bogus accounts associated with Iran have been identified posting information that is unsuitable for calming the situation in the region, as well as tracking prospective hacktivist organisations from hacking government websites.
According to reports, the internal memo read as follows: 
Following the terrible attacks in Israel, our immediate focus has been on ensuring our employees' safety. We've now made contact with all of our local employees, and we'll continue supporting them.
We're also working to provide reliable, accurate information to people who use our products.Our systems across Google and YouTube prioritise authoritative information in moments of crisis and breaking news. Our teams are working around the clock to ensure this, as well as to detect and remove graphically violent, hateful or terrorist content, or coordinated disinformation campaigns. 
Our thoughts are with the victims and their loved ones, and all those affected.
Additionally, Microsoft's Chief Executive Officer (CEO) Satya Nadella took to X (formerly known as Twitter) and wrote: "Heartbroken by the horrific terrorist attacks on Israel and the escalating conflict. My deepest condolences are with all those killed and impacted. Our focus remains on ensuring the safety of our employees and their families. Below is a message we shared with Microsoft employees today about our response."
Nadella offered his deepest condolences to all those impacted by the war. The Microsoft blog also listed ways in which the company is helping employees. 
Last Updated Oct 11, 2023, 2:41 PM IST