Smart Reply learns for your behaviour and the more you use it, the better it gets at suggesting replies.
Google lens offers all the information about an object just by pointing your camera at it.
Google Photos can pull out unwanted objects from your photos.
Smart Reply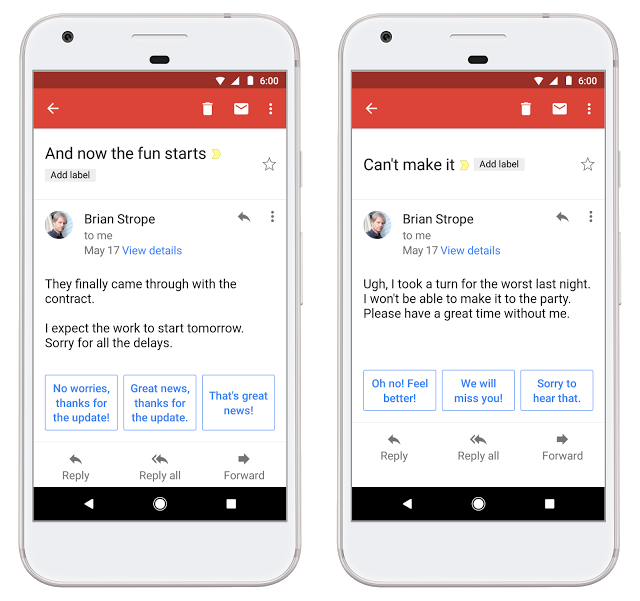 First introduced for Inbox by Gmail, this feature will now make your Gmail smarter. So, there are emails you respond to everyday and possibly have a particular manner of doing so. Smart Reply learns from your behaviour and automatically suggests responses that can choose from. It gives options, and you simply tap on one of them. However, if that is not the reply you expect, simply ignore and write down your own reply. Smart Reply learns for your behaviour and the more you use it, the more it understands how you work.
Google Lens
Google Lens means a smarter camera, sort of. It is a newer way that lets your device see! Yes, you heard that right. For instance, just point your camera at a flower and tap on the Google lens icon and it will tell you everything about that flower. Similarly, if you see a marquee of your loved band, simply hold up the Assistant, click on the Lens icon and you will get all related information such as band, tickets and so on.
Google Photos
Image: TheVerge
There were a handful of announcements made for Google Photos such as Shared Libraries allowing automatic sharing of photos with specific person or a group of people and Photo books that will be integrated into Google lens. However, what seems to be the real trick offered to users is the ability to pull out unwanted objects from the image. Google demonstrated how a fence can be pulled out of an image to give a clearer look as seen in the image above.