Elon Musk gets nod for human brain implant; here's what comes next
The primary goal of these trials is to assess safety and functionality. While promising, these trials carry risks, and Neuralink has faced scrutiny in the past for its animal experiments.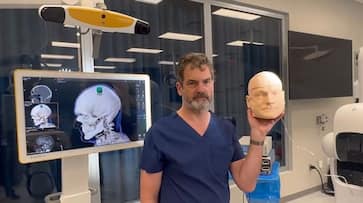 Neuralink, Elon Musk's brain implant company, has received approval from an independent review board to commence recruiting human participants for a brain implant trial. This significant development comes after Neuralink's announcement in May, where they expressed their intent to begin human testing following United States Food and Drug Administration's clearance.
The primary objective of these human trials, as outlined in a blog post by the California-based neurotechnology firm, is to evaluate the safety and functionality of their brain-computer interface (BCI) known as 'the Link'. 
Neuralink's overarching mission is to create implantable devices that enable users to control various functions using their thoughts. It's worth noting that Neuralink is just one of several companies exploring brain interface devices, despite the futuristic nature of the technology.
The company stated in their announcement, 'The initial goal of our BCI is to grant people the ability to control a computer cursor or keyboard using their thoughts alone.' While this advancement holds promise, it's crucial to recognize that Neuralink's 'first-in-human clinical trials' come with significant risks for participants, as pointed out by Mashable.
Neuralink has faced substantial criticism in the past, particularly regarding their experiments on laboratory animals. In February 2022, the Physicians Committee for Responsible Medicine filed a complaint, alleging invasive and fatal brain experiments conducted by Neuralink. 
By December of the same year, federal authorities were investigating the company for potential violations of animal welfare standards, with reports indicating the use of around 1,500 animals, including rats, monkeys, pigs, and mice, in experiments since 2018.
In response to these serious allegations, Neuralink defended its practices, asserting that they treated the rhesus macaque monkeys in their care with the utmost respect and care. Musk even used his platform, X (formerly known as Twitter), to emphasize that no monkeys had died due to a Neuralink implant.
While the announcement did not specify the trial's start date, it did suggest that individuals with quadriplegia resulting from cervical spinal cord injury or amyotrophic lateral sclerosis (ALS) might be eligible to participate.
Last Updated Sep 20, 2023, 7:45 PM IST