7 expensive things owned by Mukesh Ambani
Businessman Mukesh Ambani owns one of the largest telecom operators in India
His 27-storey home in Mumbai is already the talk of the world because of its opulence
This expensive items list will give you just a glimpse of what Mukesh Ambani's life can be like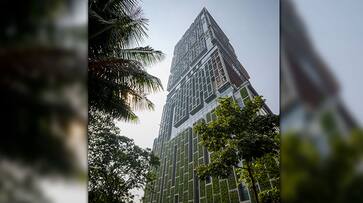 1. The Antilla Home
The Mumbai home of the richest Indian man has to figure on this list. Ambani spent a reported $1 billion to $2 billion to build the 60-story skyscraper known as Antilla in downtown Mumbai in 2010. It is thought to be the most expensive home constructed by any living person.
2. A snow-room in Antilla
The Mumbai businessman's home has a a lot of firsts and expensive gadgets, here's an example of the luxury the man lives in. The 27-storey has a floor that also features an ice room where residents and guests can escape the Mumbai heat to a small, cooled chamber dusted by man-made snow flakes.
3. He flies in style –Boeing Business Jet
Ambani got this flying for 'just' $73 million(Rs. 467 crore). This Boeing is essentially a mix between a (flying) hotel and a boardroom. His fleet also included an Airbus 319 which has been custom-fitted with an office.
4. More on his fleet –Falcon 900EX
Ambani also owns a Falcon 900EX jet, which is a private jet which hasstandard seating is between eight and twelve passengers in a double-club configuration and a three-person divan, normally, unless the Ambanis have modified it to their tastes. It is ideal for transoceanic and transcontinental trips and offers great versatility in flight planning. It comes for an eye-watering 43.3 million dollars.
5. A garage that spreads over a mile and 168 floors
The first six floors of the Antilla is dedicated to Mukesh Ambani's massive garage. Among his most priciest purchase is the armoured BMW 760i.The car has been exclusively customised to render the highest form of security. Specially designed in Germany, it is bullet-proof with armour on the chassis as well as windows. Though the BMW 760i's base cost has been reported as about $300,000, the armoured edition is worth $1.4 million. And the man has set one more record by paying $251,000 for its registration, just a little less than the actual price of BMW 760i.
6. Car fever
Since we are on the subject of cars there is the Maybach 62 which cannot be left unmentioned. He was the first Indian to buy the expensive Maybach 62. This car was a present to his wife Nita Ambani on her birthday. A Maybach 62 can reach upto a speed of 250 kmh. Not just this, it reaches from 0 to 100 kmh in 5.4 seconds. It is pegged at an approximate cost of Rs 5.5 crore.
7. Business talk- Reliance Jio
Last year at the launch, Chairman Mukesh Ambani had said that the group's telecom venture, Jio, is the world's biggest startup with an investment of Rs 150,000 crore. Not to mention the phenomenal success Jio garnered days within its launch. Jio's subscriber base reportedly crossed 100 million in just 170 days.
Last Updated Mar 31, 2022, 2:06 PM IST