Gujral visited Saddam just before the Gulf War with the consent of the US.
Gujral carried US message to Saddam and warned him to withdraw forces from Kuwait or face the consequences.
Saddam took US warning lightly.
On the record, the USA was very 'upset' by the photograph of I K Gujral, the then External Affairs Minister hugging Iraq's former president Saddam Hussein, just after the latter's invasion of Kuwait in 1990. But Gujral's son Naresh Gujral has revealed that the US was well aware of the meeting in advance and that his father, in fact, carried the message of the Americans to Saddam. 

In an exclusive Interview with Asianet News, Naresh Gujral said that his father conveyed the message from America just ahead of the Gulf war in 1990. 
 "My father did convey that message to Saddam Hussein that America was serious and they will attack him unless he withdrew his forces from Kuwait.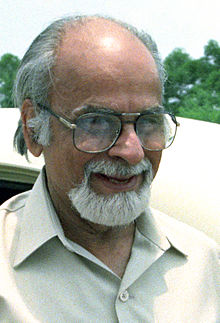 IK Gujral
Saddam said America was only bluffing. He thought America would never attack and took the warning lightly," said Naresh Gujral, a Rajya Sabha MP of Shiromani Akali Dal, an NDA ally. 
The photographs showing Gujral in a bear hug with Saddam was seen as a 'betrayal' by the western countries, wrote senior journalist Shubha Singh in an article written in Bussiness Line in January 2016.  
 The photograph of Gujral hugging Saddam was flashed around the world and it was taken as a 'betrayal' in the western world and denounced in their media. In India, it was termed "avoidable", Singh wrote in an article in Business Line. 
Iraqi forces invaded Kuwait on August 2, 1990, and Gujral, who was the External Affairs minister then, was sent on a mission to rescue nearly two lakh Indians left stranded in Kuwait and Iraq. His was a tricky diplomatic mission during the first major international crisis in the post- Cold War era. India was the major importer of Iraq oil and India was under pressure from Kuwait and the western countries to condemn the Saddam's Kuwait invasion. 
Saddam Hussein
Gujral was the first non-Arab leader to visit Baghdad after the invasion of Kuwait. Welcoming Gujral, Saddam gave him a warm hug, calling India an 'old friend.' Gujral reciprocated the warmth, much to the chagrin of the West and the Arabs. Iraqis released the photographs of the hug and it cast a shadow on India's relations with the West. 
Now, after 26 years, Gujral's son is revealing that the US was well aware of his Baghdad mission and carried its message to Saddam. 
Speaking to Asianet News in the backdrop of the US elections, Naresh Gujral underscored the need to strengthen ties with Washington irrespective of who wins the polls. "Today, the fact is that the America is the only superpower. Having close relations with America is only going to benefit India," he said. He also wanted the government to dismiss the anti-US blabbering of the Indian Left.